genetrax@gmail.com
Dog Bite Old Roper : A Midlands Genealogy
Hello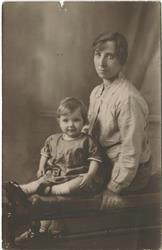 My grandmother May Fowler (née Tufft) in 1920, with my mother Gwen aged 15 months. This must have been taken around the time of my grandfather Fowler's death.
My family gallery

Rhyl 1946
My parents, Gwen and John Glover, with me at Rhyl – Dad had just been demobilised from the RAF.

Bradley
Dorah, wife of William Bradley, and their children Thomas, Dorah, Hannah, John, Alfred and Minnie – Chesterfield c.1882. (Photo reproduced with permission.)

Bradley – 2
The oldest of the Bradley children, Dorah, around the time of her marriage in 1885 to Richard Hicks, who became a well-known Chesterfield grocer.

Bratt
Jane Bratt, born at Bilston in 1821, married Samuel Fenn in 1840, and died at Pool Hayes in 1874.

Shelton
Mary Shelton, born at Wheaton Aston, Staffordshire, in 1796, married Robert Fenn in 1816, and died at Wolverhampton in 1883.

Fenn
Samuel Fenn (1817-1878), proprietor of Pool Hayes colliery, photographed c.1870.

Ferrington
Martha Ferrington, born 1835, sister of my great-great-grandmother Rebecca, married Philip Bate in 1853 and died at Bow Street, Bilston, in 1906. (Photo by permission of H.Philip Cresswell, son of Horace Cresswell and Minnie Evelyn, née Bate.)

Fowler
Members of the Fowler family 1955 at a family wedding at Penn Fields, Wolverhampton.

Fowler – 2
My mother Gwendoline Fowler, 1919-1999. This photo was taken around 1940.

Glover
Photographed at Wolverhampton Road, Walsall, c.1907 – Elizabeth Fitch Glover (left), her daughter Amelia Moss (seated centre) and Amelia's children Howard (front) and Beatrice (right).

Glover – 2
My grandfather John Glover standing behind my grandmother Annie Eyre (seated right) with other family members c.1912.

Glover – 3
Edgar Victor Fitch Glover, born at Walsall in 1887, was my grandfather's younger brother.

Johnson
Johnson family wedding at Alma Street, Wolverhampton, 1910. Elsie Slade Johnson, daughter of Henry Allen Johnson, married Joseph Beedle.

Shale
William Shale, born at Bilston in 1828, was a son of John Shale who emigrated to the USA in 1835. (Photo reproduced with permission).

Tufft
My great-aunt Comfort Tufft, who married Harry Eccleston in 1922. Comfort was a sister of Emma, born in 1887, the eldest child of William & Mary Jane Tufft. Emma worked as housemaid to George Ramsay, the celebrated secretary-manager of Aston Villa football club, and disappeared in mysterious circumstances following the sinking of the Titanic in 1912.

Tufft – 2
My grandmother May Finch, neé Tufft, with her younger daughter May Pugh and grandson John, 18th April 1952.
WELCOME TO MY FAMILY'S HISTORY…
My grandad died in 1929 when he was 49. Apart from the stark facts of his life – birth, marriage, children, occupation – one of the very few personal things I know about him is that when he was surprised by something, apparently he used to exclaim, "well, dog bite old Roper".
Where did he get that expression? Maybe he heard it from his own father or grandfather – who knows. It's certainly original. (In fact I've since discovered that 'Mr Roper' or 'Old Roper' was once a nickname for the public hangman and was obsolete by 1750, so the family expression is far older that I had imagined.)
My other grandad died in 1920 when he was 46, leaving a young widow and a 15 month-old baby. The only quirky thing I know about him is that when she was a child my mother once met his ghost coming down the stairs and was asked, "don't you know who I am? I'm your father".
So, this site is about my family and its history, all those interconnected links going way, way back through the centuries. It's also an acknowledgement and a thank you to them all.
Through one of my family lines, I can trace my ancestry back to King Edward I – as can millions of others. But apart from that, as far as I know, none of my more recent forebears were very important outside their own immediate circle. Some were richer than others; but (except for one or two) not by much. And the majority of them lived out their existence amid the noise and grime of the industrial Midlands and died prematurely of disease, so in that respect they didn't take up too much space in the scheme of things.
Whatever lost graves hold their remains, I hope I've done a bit to put the flesh back on their old bones and restore some memory of them; because however small and ordinary their lives may have been, but for them I and my own descendants wouldn't exist – and come to think of it, I guess neither would hundreds of others alive now whom I've never met but to whom I'm related by the same not very blue genes.
And on the subject of genes, my DNA (in 2020) reveals my genetic makeup as being 68% Anglo-Welsh, 19% Irish-Scots, 10% Norwegian and 3% German.
So here is the history of my family through its various branches. If anyone recognises the names of their own forebears, I'd be pleased to hear from you. After all, we're all links in the same chain. If you'd like to get in touch, email me at genetrax@gmail.com. And if you want to copy any of my research on your own pages I'm happy for you to do so – though an acknowledgement would be much appreciated.
Judith Lloyd
née Glover
Note: census information on these pages is Crown Copyright from www.nationalarchives.gov.uk.