ANDERTON : Solihull and Hall Green, Birmingham

My Anderton forebears came from the area covered by Solihull Lodge, Forshaw Heath, Wythall, and Tanworth-in-Arden, on the Worcestershire/Warwickshire border.

My direct forebear was Thomas Anderton, a sawyer, born c1743, who married Elizabeth Baldwin at St Alphege's church, Solihull, on 21 April 1767. Elizabeth had been baptised at Solihull on 31 January 1745, daughter of Thomas Baldwin. She was buried at Solihull on 26 June 1801, aged 56, followed by her husband Thomas on 16 September 1804, aged 61. Their children included my great-great-great-grandfather Isaac, who was baptised at Wythall on 2 January 1780.

Isaac, a farm labourer, married Sarah Law at Solihull on 30 September 1803.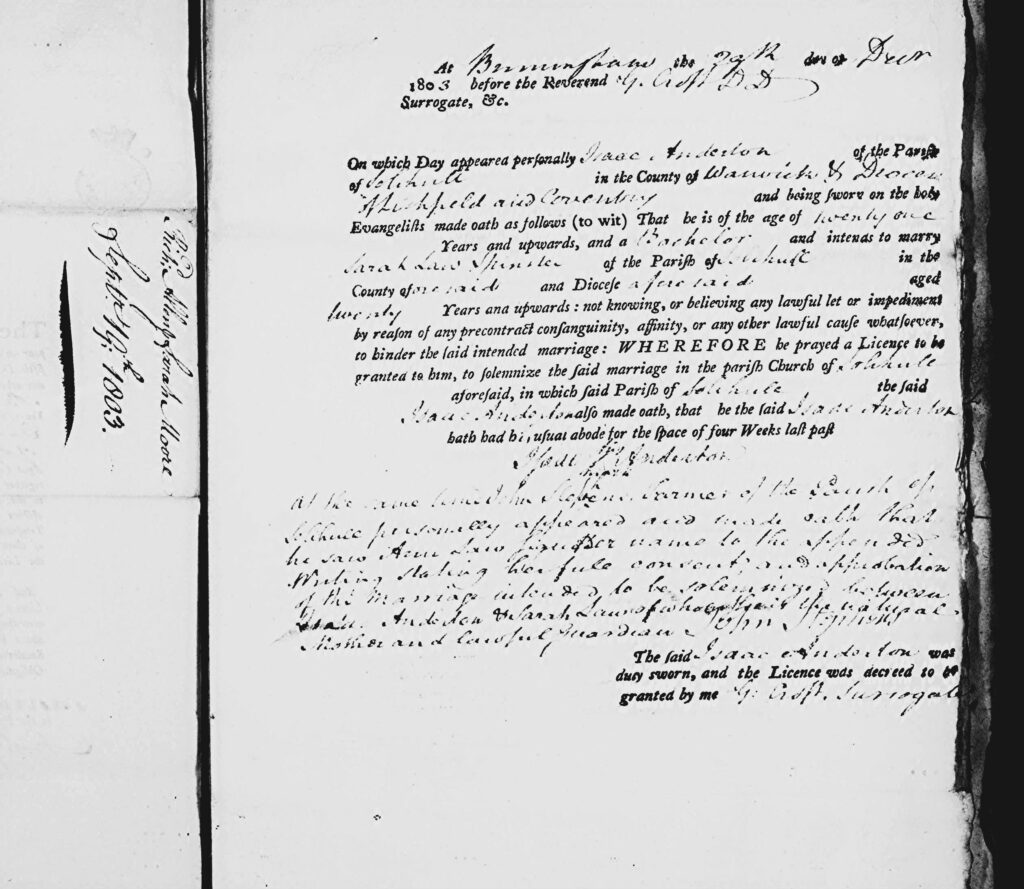 In 1841 Isaac appeared on the Solihull census residing at Forshaw Heath with his wife Sarah, 60, and two youngest children, George, 10, and Charles, 7 (the ages of the children are incorrect : George was born in 1828 and Charles in 1831).

Isaac and Sarah had the following known children, some being born at Solihull Lodge, others at Forshaw Heath: Thomas baptised 20 Oct 1805; Elizabeth 9 Oct 1808; Richard 27 Jan 1811; James 20 Mar 1814; *Isaac born 4 Feb 1817 at Forshaw Heath; William (my great-great-grandfather) 9 Jan 1820 – see below; Hannah 20 May 1821; John 13 July 1823; Esther 5 June 1825; Maria 28 May 1826; George 9 March 1828; and Charles 14 August 1831.
*This Isaac emigrated with his family to Utah, USA, in 1869, dying there in 1894.
Isaac Anderton died at Forshaw Heath aged 65, and was buried at Solihull on 30 December 1843.
On the 1841 census my great-great-grandfather William Anderton was in Birmingham working as a wiredrawer's labourer. He married his first wife, Ann Walker, at St Phillips' church, Birmingham, on 12 June 1844. The marriage certificate shows them both of full age, residing at Rea Street, Digbeth. The groom's father is given as Isaac, labourer, and the bride's as Thomas, bone turner. The groom's occupation is shown as labourer. Witnesses were Thomas and Maria Anderton (probably William's brother and sister-in-law.)
The bride may well have been the Ann Walker who had been working as a servant for Thomas Anderton at Sarehole Mill, Hall Green, in 1841. Thomas Anderton had been miller here from around 1840 until he went bankrupt in 1847. On the 1851 census he was living at Edwards Street, Kings Norton, employed as a baker. His age was shown as 46, born Tanworth, and his wife was Maria, 63, born Tipton. He was most likely the oldest son of Isaac Anderton, born in 1805, and therefore William's brother. He died in 1852 and in 1861 his widow was living at Stoney Lane, Yardley.

By the time of the 1851 census William Anderton had succeeded his brother Thomas as baker at Sarehole Mill; and he and Ann had two daughters and a son – Elizabeth, baptised at Kings Norton on 1 June 1845, who died in infancy; Ann baptised at Kings Norton on 20 June 1847; and Isaac, born 1850.
Sarehole Mill is now well-known for its association with the author J.R.R.Tolkien, who lived close by as a child and used the mill in his book "The Hobbit".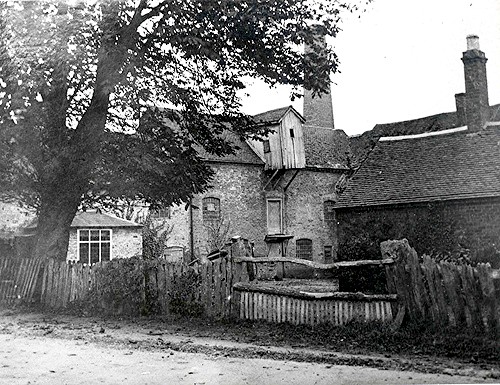 On this 1851 census, the Anderton family was recorded at Cottage Lane, Yardley, adjacent to Sarehole Mill:
William Anderton, head, aged 31, born Solihull; baker, master employing one man
Ann, wife, aged 33, born Birmingham
Ann, daughter, aged 3, born Kings Heath
Isaac, son, aged 1, born Yardley
Alfred Webb, servant, aged 19, born Hampshire; baker
Elizabeth Stanton, servant, aged 14, born Kings Norton; housemaid
Joseph Donohua, lodger, aged 23, born Ireland; ag. labourer.

William's wife Ann died in the spring of 1856, and not long afterwards he began a relationship with Tabitha Dabbs (see DABBS family). Their daughter, my great-grandmother Alice, was born illegitimately on 7 October 1857 at Sarehole Mill, Hall Green, Yardley. On her birth certificate the father is shown as William Anderton, baker, and the mother as Tabitha Anderton, formerly Dabbs (although they did not actually marry until 1874). Alice was baptised at Balsall Heath parish church on 13 March 1859.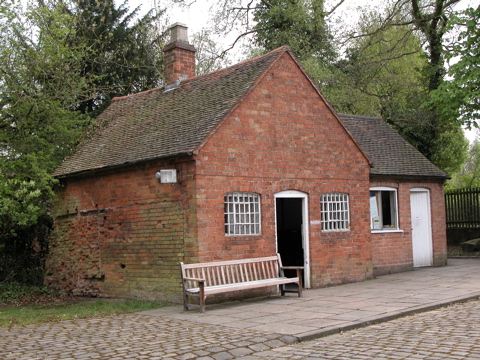 On the 1861 census the Andertons were still living next to Sarehole Mill, at 84 Cole Bank Lane, Hall Green:
William Anderton, head, 40, baker; born Solihull
Tabitha, wife (sic), 38; born Wellington (Shropshire)
Isaac, son, 11, scholar; born Yardley
Ann, daughter, 13, scholar; born Yardley
Alice, daughter, 4; born Yardley.

Their neighbours were William's cousin Benjamin Anderton, 60, and his wife Ann, 67; and nearby were William's brother Isaac, 43, working as a groom and gardener, his wife Alice, 36, and children John, 14, Isaac, 7, Isaiah, 4, and Charles Henry, 2 (this family emigrated to Utah, USA, in 1869).

On the 1871 census my forebears were still at Cole Bank:
William Anderton, head, aged 50, baker; born Solihull
Tabitha Anderton, wife, aged 50; born Solihull (sic)
Alice Anderton, daughter, aged 13; born Yardley

• William Anderton, baker, Hall Green, appears in the Post Office directory for that year.

William Anderton retired from Sarehole bakery in 1872, and he became a gardener. He and Tabitha Dabbs were married on 20 April 1874, at Birmingham Register Office. William was aged 53, a widower, occupation gardener, and his father was given as Isaac Anderton (deceased) a labourer. Tabitha was aged 52, a spinster, and her father was Joseph Dabbs (deceased) a miner. Their witnesses were John and Ann Coles.

At the time of their marriage William and Tabitha gave their address as Holloway Head, Birmingham – probably a temporary lodging because the 1881 census shows them still living at Hall Green, Yardley:
William Anderton, aged 60, born Solihull; gardener
Tabitha Anderton, wife, aged 59, born Wellington, Shropshire.

William Anderton died at Church Road, Hall Green, on Wednesday, 5 March 1890, aged 69. The death certificate gives his occupation as gardener, domestic servant. Cause of death was catarrhal pneumonia, 14 days, and present at the death was Ann Webb, a neighbour in Church Road. He left a personal estate of £127.

In 1891 Tabitha was living alone at Church Road, Yardley. The census showed her age as 70 and her birthplace as Street Lane, Shropshire. She died at Aston Union workhouse on Tuesday, 24 April 1894, aged 73.

Her daughter Alice married William Eyre on 30 June 1879 at Christ Church, Sparkbrook, Birmingham. Their witnesses were Alice's half-brother, Robert Dabbs and her half-sister Annie Rose (née Anderton).

Alice died of pneumonia aged 40, at Aston on Wednesday, 10 November 1897.

Annie Anderton, William's daughter by his first wife, married Henry Rose in 1870. Henry had been baptised on 30 March 1845 at Knowle, son of Richard and Caroline Rose. On the 1881 census they were living at High Chimneys, a 17th century house in the village of Tanworth-in-Arden:
Henry Rose, head, aged 36, born Knowle, Warks; farmer of 61 acres
Ann Rose, wife, aged 33, born Kings Norton; farmer's wife
Richard Rose, father, aged 60, born Whitchurch; farm labourer
Walter Pye, visitor, aged 12, born Yardley; scholar
Arthur Pace, aged 20, born Tanworth; farm servant indoors.

On the 1891 census they were still at High Chimneys:
Henry Rose, head, aged 46, born Tanworth; farmer
Ann Rose, wife, aged 43; born Kings Norton
*Alice Eyre, visitor, aged 10, born Aston; scholar
Ernest Knight, visitor, aged 8, born Aston; scholar
Ellen Beale, aged 35, born Tanworth; general domestic servant
William Ward, aged 35, born Whitechapel, London; farm labourer
**Thomas Dabbs, aged 51, born Wellington; farm labourer

*Alice Eyre (my great-aunt Alice) was Annie Rose's niece, daughter of Alice & William Eyre.
** Thomas Dabbs was a brother of Tabitha Dabbs.

By 1901 Henry and Annie Rose had left High Chimneys and were living at 27 The Green, Kings Norton:
Henry Rose, aged 57, provision dealer, born Knowle
Ann, wife, aged 53, born Kings Heath
Samuel Sanders, boarder, aged 21, plumber, born Birmingham
Benjamin Handley, boarder, aged 52, domestic gardener, born Harvington
Frank Salmon, boarder, aged 72, postman, born Kings Norton.

Annie's brother, Isaac Anderton, my great-great-uncle, was born at Solihull in 1850. On the 1871 census he was lodging at Giles Hill, Stourbridge, aged 21, working as a glass cutter. On 25 June 1871 he married Emma Jenkins at St Martin's, Birmingham.

On the 1881 census his family is shown as:
Isaac Anderton, aged 31, born Yardley; flint glass cutter
Emma, wife, aged 31, born Stourbridge; dressmaker
William E., son, aged 8, born Stourbridge; scholar
Annie Jenkins, visitor, aged 13, born Stourbridge; scholar.

Isaac's son, William Ernest, married Ada Lizzie Godfrey at Bristol in 1896, and became a self-employed confectionary baker. In 1901 the couple were living at 173 Ladypool Road, Balsall Heath, Birmingham, with their nine-month old son Ernest, and Ada's 12-year old sister Violet.

William Ernest Anderton died in 1906, aged 35, and his widow Ada subsequently re-married, at Nottingham in 1910, to Harry Herbert Lawson. In 1911 they were living in Lenton, Nottingham, with young Ernest Godfrey who was then aged ten.