BRADLEY : Dudley and Chesterfield

My direct forebear was Thomas Bradley, baptised on 5 March 1811 at Sedgley, one of the ten surviving children of Joseph Bradley, a labourer of Woodsetton, and his wife Sarah. Joseph and Sarah were living at neighbouring Gornal Wood on the 1841 census, both recorded as 60. Joseph died at the start of October that same year and in 1851 his widow was living with two unmarried sons, William and Matthew, all three of them born at Sedgley.
Her son Thomas Bradley married Elizabeth Ward, eldest daughter of Edward Ward, at St Thomas's, Dudley, on 20 April 1834. Their witnesses were Thomas Allen (parish clerk) and Enoch Hartshorn (a miner, and neighbour of the Bradleys at Shaver's End in 1841).
Thomas and Elizabeth Bradley are my direct forebears – see WARD family.

On the 1841 census the family was living at Shaver's End, Dudley:
Thomas Bradley, 25, miner
Elizabeth, 25
Mary, 4 (my great-great-grandmother)
Harriot, 2
William, 2 months
Joseph Ward, 20, miner (Elizabeth's brother).

The children of Thomas & Elizabeth Bradley included Mary (bp St Thomas's 21 Aug 1836); Harriet (born 14 Sept 1838); William (born 8 May 1841); John (born 25 June 1843); and Thomas (bp 7 Mar 1847, died in infancy).  An earlier child, Emanuel, was born illegitimately at Dudley on 1 January 1834 and baptised on 25 December that year.  He was buried at All Saints, Sedgley, on 3 May 1840.  The parish register gives his age as 5 years 10 months and abode as Shaver's End.

On the 1851 Dudley census, Thomas Bradley was absent from the family home, lodging a few miles away at Oldbury together with 21 year-old Isaac Downing, whose parents were neighbours of the Bradley family, now resident at St James Terrace in Dudley.  Elizabeth Bradley is recorded here separately as head of the household, which suggests that she and her husband were living apart: 
Elizabeth Bradley, head, married, aged 38, born St James, Dudley; pauper/cripple: deaf
Mary, daughter, aged 16, domestic servant
Harriet, daughter, aged 10, nailer
William, son, aged 8
John, son, aged 6.

Elizabeth Bradley died later that year on 7 October from 'abscesses', and exhaustion lasting thirteen months, and was buried from St James's church five days later.  Present at the death was her neighbour Hannah Hughes (see below).  In 1854 her daughter Mary Bradley had an illegitimate child, Richard (he lived until he was 22, dying in 1875). Mary married John Evans at Wolverhampton in 1855. They are my direct forebears – see EVANS family. 

Thomas Bradley remarried on 18 October 1858 at St Paul's church, Tipton.  His bride was Martha Percival née Caddick, widow of Thomas Percival, and she was 45 according to the parish register (she had been baptised at Sedgley on 14 September 1814); while the bridegroom's age was shown as 40 – although he was actually 47 at the time of the marriage.  Their fathers are given as Joseph Bradley, labourer, and Samuel Caddick, screw forger.
On the 1861 census Thomas and Martha Bradley were living at Mount Pleasant, Coseley. Thomas was recorded as a coal miner aged 50, born at Sedgley, and his wife as 48. With them were living Thomas's son William (see below) a miner aged 20, and Martha's son Thomas Percival, an iron puddler aged 15. Thomas Bradley's younger son John (see below) aged 17 and also a miner, was lodging close by with the family of William Percival, a close relation of his step-mother's first husband.
William Bradley (born 1841) married Dorah Eliza Swindin at Chesterfield in 1864. Their children included Dorah Eliza 1865; Thomas Emanuel 1867; Hannah Mary 1868; William Herbert 1870; John James 1876; Minnie Ann 1879; and Alfred Ernest 1880.

William Bradley is recorded on the 1881 census as a grocer occupying a shop at 8 Devonshire Street, Chesterfield, Derbyshire, with his family:
William Bradley, head, aged 40, born Dudley, Worcs., grocer
Dorah E., wife, aged 37, born Brampton, Derby
Dorah E., daughter, aged 15, born Whittington, Derby
Thomas E., son, aged 14, born Whittington; pony driver
H. Mary, daughter, aged 12, born Newbold, Derby; scholar
William H., son, aged 11, born Newbold; scholar
John J., son, aged 4, born Newbold
M. A., daughter, aged 2, born Newbold
A. E., son, aged 1, born Newbold.
Dorah Bradley died at Chesterfield in 1886 aged 43. Not long before, William Bradley had deserted his family and is thought to have emigrated, an action which badly affected his wife's health and possibly contributed to her early death. The two youngest children, Alfred and Minnie went to live with their sister Dorah Eliza and her husband Richard Hicks (who became a well-known grocer in the area). Tragically, Dorah Eliza died at the same age as her mother, 43, in 1908.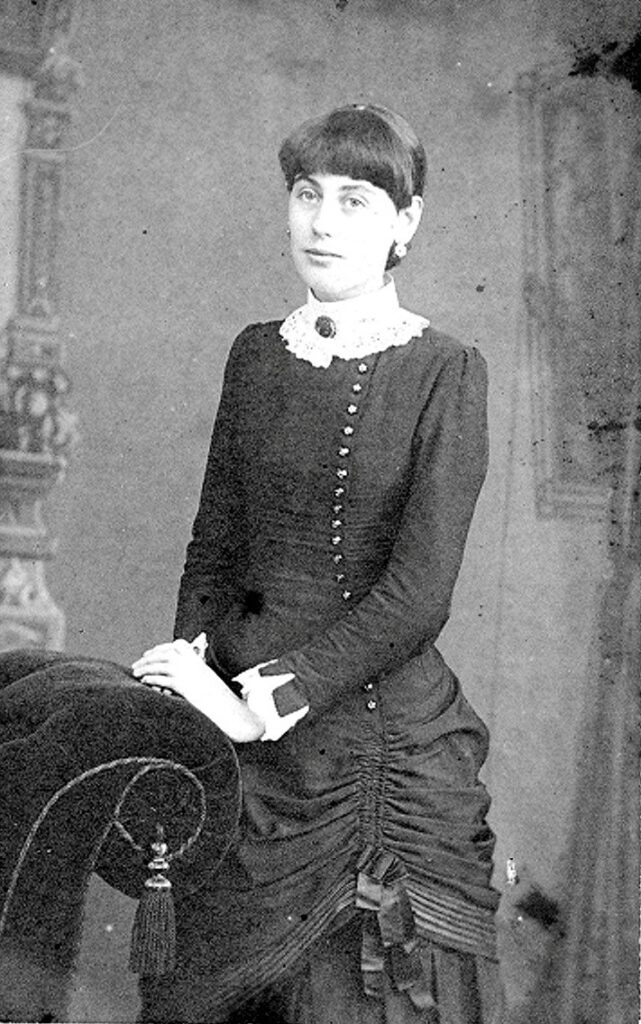 Alfred married Agnes Hunt in 1901, dying in 1928, aged 48; and Minnie married Frederick William Morris in 1901, dying in 1954.

Another of these young Bradleys, John James, moved in with his eldest brother Thomas Emanuel, who by 1891 was married with a family and working as a coal miner at Catcliffe, Rotherham. (Thomas Emanuel died at Catcliffe in 1945.) Their sister Hannah went to live with their maternal grandmother at Whittington.

In 1881 William Bradley's brother John (born Dudley 1843) was also in Chesterfield, living next door at 1 Hardwick Street. He had married Sarah Moakes (daughter of Mary Moakes and John Metcalf) at Staveley on 16 May 1864 and their children included Mary E., c1866; Benjamin, 1870; Harriet 1872; Clara 1874; Elizabeth 1875; and Anthony 1879.
The 1881 census records the family as:
John Bradley, head, aged 38, born Dudley, Worcs; coal miner
Sarah, wife, aged 37, born Eckington, Derby
Harriet, daughter, aged 9, born Sheffield, Yorks; scholar
Clara, daughter, aged 7, born Sheffield; scholar
Elizabeth, daughter, aged 6, born Sheffield; scholar
Anthony, son, aged 2, born Chesterfield
H. Metcalf, relative, aged 4, born Eckington, Derby.

Harriet Bradley (born 1838), sister of William and John, was a domestic servant in 1861, and married Anthony Thompson at Dudley in 1865. They lived at Kingswinford before moving to the Forge House at Stansty, Denbighshire. Their children included Harriett Elizabeth 1867, Thomas 1869, William Anthony 1873, Mary Mathilda 1875, and George Ernest 1878.

FAMILY OF WILLIAM BRADLEY –
I originally researched another Bradley, William, son of Mary Bradley, born about 1807, though I now doubt whether he was actually related to my Thomas Bradley. However, I will keep his details here in case it helps other researchers. This William married Hannah York at Sedgley on 26 April 1827, and their first child, Ann Maria, was baptised at Tipton on 17 August 1828. The parish register records the father as a boatman, of Pack Lane.

Their other children, all baptised at St Thomas's Dudley, were Richard, born 16 Feb 1835; Mary, Elizabeth and Emma*, all baptised in 1837; and William, 5 July 1840 (born posthumously).
* Emma's birth certificate records her being born at Dudley at 'half past 11 o'clock at night' on 26 August 1837. Her father is given as William Bradley, boat loader, and mother as Hannah Bradley née York, of Shaver's End, Dudley. For William's baptism, the register records the father as a labourer, living 'Shavers End of Sedgley'.

William Bradley died on 23 April 1840, aged 32, and was buried at St Thomas's three days later. His family, including his elderly mother, went into the workhouse at Sedgley.

Recorded in 1841 at Dibdale House, Sedgley, (the Dudley Union Workhouse):
Mary Bradley, aged 70
Hannah, aged 30
Elizabeth, aged 9
Mary, aged 7
Richard, aged 5
Emma, aged 3
William, aged 9 months.

The oldest child, Ann Maria, then aged 13, was probably in employment elsewhere. She married Samuel Davies at Sedgley in 1850.

William Bradley's widow Hannah married William Hughes at All Saints church, Sedgley, in 1846. In 1851 they were living at St James's Terrace, Dudley, next door to the family of my forebear Thomas Bradley:
William Hughes, aged 30, miner, born Cleobury Mortimer
Hannah, wife, aged 47, born Madeley, Shrops
Richard Bradley, son, aged 16, miner, born Dudley
Emma Bradley, daughter, aged 12, born Dudley
William Bradley, son, aged 10, born Dudley
James Hughes, son, aged 4, born Dudley.

Hannah was present at the death of Thomas Bradley's wife on 7 October that year. Her two daughters, Elizabeth and Mary, were living in the immediate neighbourhood: Elizabeth, aged 20 in 1851, was assistant to a pawnbroker in Southalls Lane; and Mary, 19, was servant to a glass and paint seller in Wolverhampton Street.

On the 1861 census, living at 172 St James's Terrace:
William Hughes, aged 49, labourer in coal fields
Hannah, wife, aged 58, born Madeley
James, son, aged 14, labourer in coal fields, born Dudley
*John Bradley, grandson, aged 3, born Dudley
*illegitimate son of Elizabeth Bradley, born 18 Aug 1857, bap. St Thomas's 14 July 1861. Elizabeth's other illegitimate son was William Roberts Bradley, born 2 Nov 1860 – see below.

On the same census Hannah's son Richard, 26, a miner, was living at Shaver's End with his wife Mary, 29, who died in 1862. (Next door were living his sisters Ann Maria Davies and Elizabeth Bradley, with Elizabeth's infant son William Roberts Bradley.) Richard subsequently married Betsey Blakemore at Dudley in 1864, and by 1881 he was living at Chesterfield, not far from Thomas Bradley's sons, William and John, at 10 Brickyard Row, Sheffield Road:
Richard Bradley, aged 46, coal miner; born Dudley
Elizabeth, wife, aged 37, born Sorsby, Shrops (Shrewsbury?)
Mary, daughter, aged 13, scholar (domestic); born Dudley
Elizabeth, daughter, aged 11, scholar; born Newbold, Derbyshire
Fanny, daughter, aged 9, scholar; born Newbold
Hannah, aged 6, scholar, born Newbold
Ann M., daughter, aged 5, scholar; born Newbold
William, son, aged 2, born Newbold.

Lodging close by at Whittington was another member of the family, William Roberts Bradley, an unmarried coalminer, the illegitimate son of Elizabeth. His fellow lodger was Samuel Davies, aged 19, also from Dudley and a coal miner. Head of the household was Fred. Mettam, whose wife Hannah (née Davies), aged 27, was also a native of Dudley – Samuel and Hannah were William's cousins, the children of his aunt Ann Maria (Bradley) who had married Samuel Davies snr in 1850.