FITCH : Norfolk, Yarmouth and Walsall

My great-great-great-great-grandfather was Thomas Fitch, a leather currier born c.1766, who married Ann Davidson at St Stephen's, Norwich, on 30 October 1797. Their children were Thomas, baptised at St George Colegate, Norwich, on 10 December 1797; John, born on 6 July 1802 and christened at St Saviour, Norwich, on 18 July 1802; and Elizabeth, born on 7 August 1804, christened at St Saviour on 12 August, died nine days later.

Thomas Fitch's wife Ann died aged 34, and was buried at St Saviour, Norwich, on 22 January 1807. Thomas remarried at Yarmouth in 1833 to Emily Vincent, and died two years later – see end notes for their family.

On 1 February 1830 at Grantham, Lincolnshire, Thomas's son John Fitch married Elizabeth Bestell (bp 4 November 1808) illegitimate daughter of Maria Bestell. The marriage register shows them both to be of the parish of St Wulfram's, and their witnesses were Edward and Mary Cheavin.

Their older children, born at Grantham, were Thomas (bp 15 October 1830); Elizabeth (6 June 1832); and Ann (23 June 1834), who died of smallpox aged 9 months and was buried on 25 March 1835. The parish register records her father's abode as Little Gonerby and his occupation as currier.

Between 1834 and 1840 the family moved to Birmingham, where the youngest daughter, Ann Maria, was born on 22 May 1840. Her birth certificate gives the address as 27 Marshall Street in the parish of St Thomas, and the father's occupation as currier (a skilled craftsman who prepares leather for the use of a saddler or cobbler).

In 1841 the family was still living at Marshall Street:
John Fitch, aged 38, currier
Elizabeth, aged 32
Thomas, aged 10
Elizabeth, aged 9
Ann, aged 1

The youngest son, John, was born at Great Yarmouth on 26 August 1844. The birth certificate shows his birthplace as Row 25 – one of the many old 'rows' or cobbled alleys at the centre of the town.
But by the time of the 1851 census the Fitches were back in Birmingham, and living at 52 Latimer Street South at the time of Elizabeth Fitch's death on 29 March that year. Cause of death was phrenitis subacute (inflammation of the brain) and her husband was present at her demise. Her age was given as 48.

Two days later, on 31 March, the 1851 census was taken and the census entry shows the household as:
John Fitch, widower, aged 48, born Norwich; currier
Elizabeth, daughter, aged 18, born Grantham, Lincs; dressmaker
Ann, daughter, aged 10, born Birmingham; scholar
John, son, aged 6, born Yarmouth, Norfolk.

John's elder son Thomas, also a currier, was lodging at 79 Cardigan Street, Aston. The census gives his age as 20 and his birthplace as Grantham, Lincs.
Thomas died at Littleton Street, Walsall, on 11 August 1857. The death certificate shows his age as 26, occupation journeyman currier, and cause of death pulmonary disease. Present was Margaret Wickfield, of St Paul's Row.

Elizabeth Fitch married Thomas Glover at St Peter's, Walsall, on 25 February 1854. On their marriage certificate Elizabeth is shown as aged 22, living at Stafford Street, daughter of John Fitch, a currier.
Their witnesses were William and Elizabeth Cooper, the bridegroom's sister and brother-in-law.

Sometime after 1851 John Fitch had moved from Birmingham to Walsall, and in the 1861 census was living at 20 Teddesley Street, where his details were inaccurately recorded as:
John Fitch, head, married, aged 58, born Norwich; currier
Ann, wife, aged 30, born Birmingham (this is actually his daughter Ann Maria, aged 20)
John, son, aged 17, born Gt Yarmouth; silver plater.

The 1871 census records John as a widower of 68 living at 35 Stafford Street, Walsall, with his daughter Ann Maria, and a lodger, Matthew Bayliss, a 28-year-old chainmaker, whom Ann married at Aston on 29 April 1872.

By 1881 John Fitch was still working as a currier at the age of 78, and living with his daughter Ann and her husband Matthew Bayliss at 20 Littleton Street, Walsall Foreign:
John Fitch, head, aged 78, widower, born Norwich; currier
Matthew Bayliss, son-in-law, aged 39, born Walsall; cart gear maker
Ann Bayliss, daughter, aged 40, born Birmingham
John M.Bayliss, grandson, aged 8, born Walsall; scholar
George F.Bayliss, grandson, aged 2, born Walsall.

On the same census John Fitch jnr was recorded aged 36 living in Birmingham with his 39 year old wife Emma (née Ellis) and working as a silver plater. (They had married in Birmingham in 1877.) On the 1891 census they were living at 133 Bridge Street West, Birmingham, and were apparently childless.

John Fitch snr died at Walsall on 9 April 1881, aged 78. The death certificate gives his address as 20 Littleton Street, and cause of death as senile decay. His son-in-law Matthew Bayliss was in attendance. His daughter, Matthew's wife Ann Maria, died at Walsall in 1890 (see below for details of their two sons).

On the 1891 census his daughter Elizabeth Glover, now widowed, was living in Regent Street, Walsall, with her daughter and son-in-law Amelia and Alfred Moss (a beef butcher) – see GLOVER family.

Ten years later the 1901 census shows her aged 68, living 'above the shop' with Amelia and Alfred at 33 Wolverhampton Road, Walsall.

Her brother John Fitch, now 56, and still a silver plater, was living at 133 Bridge Street West, Birmingham, with his second wife, Hannah (previously Fawkes) 58, whom he had married at Birmingham in 1899, a year after his first wife's death. (On the 1881 census Hannah had appeared as a widow of 42, born Warwick, working as a button carder, and living with her son George Fawkes, aged 15, born East Indies, a thimble maker, at 3 back of 16 Howard Street, Birmingham.) By 1911 John Fitch was widowed again and living at 3 back of 73 Great King Street. He died in 1913, aged 68.

Elizabeth Fitch Glover died at Walsall in 1918, aged 86.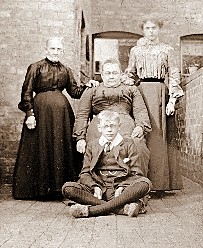 The two sons of Ann Maria Fitch and her husband Matthew Bayliss were John Matthew, born at Walsall c1873, and George Frederick, 1878. Both boys became cart gear forgers. John Matthew married Clara Wilcox in 1896 and by 1901 had two sons, John Henry and Harold. George Frederick enlisted with the Dorset Regiment in 1915 when he was 37 years old and living at 46 Long Acre Street, Walsall. He died at Walsall in 1934, aged 55.

THE FAMILY OF THOMAS & EMILY FITCH –

Thomas Fitch married Emily Vincent née Newson at St Nicholas's church, Great Yarmouth, on 20 August 1833. The marriage entry in the parish register shows Thomas Fitch to be a widower and Emily Vincent a widow, and they were married by licence. Their witnesses were John Seaman (parish clerk) and Martha Bowles. Emily's first marriage had been to Thomas Vincent at Heigham, Norwich, on 30 December 1817 and they had had at least two children, Thomas, and Emily who was christened at Great Yarmouth on 18 July 1818.

With Thomas Fitch, Emily Vincent had two daughters, Susan and Elizabeth, who were baptised together on 18 November 1833 at St Nicholas's. The parish register gives their father's occupation as currier. Susan had probably been born illegitimately the previous year.

Thomas Fitch was buried at Yarmouth on 26 November 1835, aged 69. On the 1841 census his widow Emily, a charwoman, was living with their two little girls Susan (10) and Betsy (8) at Row 22, Yarmouth. Also with them were her two older children Thomas Vincent (20) a plumber, and Amelia (Emily) Vincent (20).

Emily Fitch died aged 43 and was buried at Yarmouth on 5 November 1843.

On the 1851 census her daughter Susan, aged 19, was a house servant at Charlotte Street, Yarmouth, with the family of David Garrod, a shoemaker and marine store dealer – the census records her as Susan Vincent.

On the 1861 census Susan Fitch was still unmarried, living next to the family of Edward Garrod, fish dealer (her previous employer's brother) at 87 George Street, Yarmouth, with her (presumably illegitimate) children:
Susan Fitch, head, unmarried, aged 27, silk weaver
Jane Vincent Fitch, daughter, 8, scholar
Ellis Vincent Fitch, son, 6, scholar } all born Yarmouth
Emily Garrod Fitch, daughter, 2, scholar – this child died soon after the census and was buried on 7 June.

On the 1871 census Susan had moved to 2 George Street and was still calling herself Susan Vincent:
Susan Vincent, unmarried, aged 38, silk weaver
Jane Vincent, daughter, 18, silk weaver } all born Yarmouth
Ellis Vincent, son, 15, engineer's labourer.

At the time of her death in the autumn of 1871, Susan was at Fullers Hill, Yarmouth. She was buried in St Nicholas's cemetery on 17 October, aged 39, and the register gives her name as Susan Fitch.

• Her daughter Jane Vincent married a ship's painter, William Holliday, at Yarmouth in 1871. No father was named on her marriage registration. Soon afterwards the couple moved to South Shields and their children born there included Harry William 1873, Alexander Archie 1876, Frederick 1878, Ernest 1880, John Edward 1891, and Ada Fitch 1893.
• Susan Fitch's son Ellis married Catherine Annie Seager at Yarmouth in 1888, also under the name Vincent. No father was named on the marriage certificate. He had joined the Royal Engineers in 1879, serving as a sapper in Natal, Egypt and The Sudan, before being discharged from service early in 1891. On the 1891 census he is recorded as a riveter, 35, living at Linthorpe, Middlesbrough, with his wife Catherine, 29, and their daughters Charlotte Ethel, born 15 March 1879, and Daisy Flora, born 1 October 1882 (both illegitimately). In 1901 Ellis was still at Middlesbrough, aged 45, working in the shipyard, and living alone with Catherine, 42. He died at Middlesbrough in 1910, aged 54. In 1902 his elder daughter, known as Ethel, had married John Henry Haymonds at Middlesbrough; his younger daughter, known as Florence, was living at Middlesbrough and still unmarried in 1939.

The sister of Susan Vincent Fitch was Elizabeth, who had been baptised in 1833 and recorded as Betsy, aged 8, on the 1841 Yarmouth census.

By 1851 Elizabeth had moved to Clapham and was working as a nursery maid for a family named Johnson. Ten years later, aged 26, she was still unmarried and now working as a governess, boarding in Clapham with people named Ingram who appear to have been related to her through her mother: the 1861 census describes her as 'cousin' to this family.

On 20 September that year, 1861, Elizabeth Fitch married a widowed Royal Navy engineer, Simon Matthews. The wedding took place at the parish church in Portsea, Hampshire, and the marriage certificate describes the bride's father as Thomas Fitch, a currier. One of the witnesses was Annie Newson, very likely a relative on her mother's side.

There were three surviving children of the marriage: Susan Harriet, born in 1861; Louise Bessie, 1867; and Pauline Mary, 1877.

On the 1871 census, Elizabeth was back again with the Ingram family in London, visiting them with one of her daughters, four-year-old Louise. The 1881 census records her living in Ipswich with her husband Simon Matthews, now retired from the Royal Navy, and their children Susie, 18, Louise, 14, and Pauline, three.

Simon Matthews died aged 66 at Ipswich in 1895, and on the 1901 census his widow Elizabeth, now 67, was living at St Margaret's Road, Deptford, with her still unmarried daughters Susan and Pauline, both school teachers.

In 1899 her middle daughter, Louise, had married Alexander McMaster, a Scottish bank clerk, and their only child was James, born at Ipswich in 1903, who did not survive infancy. By 1911 Louise was widowed and living with her two sisters at 2 Granard Road, Wandsworth Common. The three of them, now retired from teaching, were still sharing a home in 1939, having moved to 193 Wandle Road, Wandsworth.
Louise died in London in 1941, aged 74.