FOWLER : Bilston, West Midlands

My maternal great-great-great-grandfather Thomas Fowler, a japanner and licensed victualler at Bilston, Staffordshire, was born about 1787. His son John's marriage certificates (1877, 1883 and 1887) describe him as "artist" and "painter" suggesting he may have decorated enamelled items such as trays and snuff boxes.

He married Ann Shale (see SHALE family) at All Saints church Sedgley on 1 August 1815. Their witnesses were Catherine Hardy and John Newton (parish clerk). Thomas himself was a witness to the marriage of his brother-in-law William Shale to Elizabeth Hodson at All Saints West Bromwich on 15 August 1822.

The children of Thomas and Ann were:
Emma, bp 14 July 1816, buried 1 Sept 1816 aged 10 weeks; Henry, 16 November 1820; Jane Maria, 28 July 1823; Thomas, 18 July 1826; Ann, buried 18 July 1828 aged seven weeks; William, 2 August 1829; Esther Betsy, 7 December 1831; John, 20 July 1834; Mary Ann, 7 January 1838; and Sarah, 22 March 1840 (see end notes). All were baptised at St Leonard's parish church, Bilston.

In the 1828, 1830 and 1834 Bilston trade directories, Thomas Fowler was publican of The Old Crown, Bridge Street. He was also recorded in poll books for the years 1838, 1839 and 1840 as a copyholder of property in Bridge Street. He died here of 'general debility' on 10 May 1841 and was buried at St Leonard's eight days later. On the death certificate, which records his occupation as publican, his age is given as 51, but the burial register shows his age to be 54.
(To add to the confusion, the Staffs Gazette newspaper, dated 13 May 1841, carried the obituary 'May 10th at Bilston, Mr Thomas Fowler of The Old Crown Inn, aged 45).

A directory of 1841 shows his widow, Ann Fowler, as publican of The Roebuck at 50 Bridge Street. The census for that year (Sunday, June 7) gives the family as:
Ann Fowler, aged 45; victualler
Henry, aged 20
Maria, aged 15
Thomas, aged 15
William, aged 11
Ann, aged 3
(John, aged 7, was recorded with neighbours James and Elizabeth Roberts. Esther Betsy, aged 9, was with her uncle William Shale and his wife Elizabeth, née Hodson, in Middle Field Lane; and baby Sarah was with a relation by marriage of Ann Fowler's, Mary Bill.)
There were also two domestic servants, Phoebe Williams 25, and Harriett Steele 15.

Maria gave birth to an illegitimate daughter, Emma, in December 1842. The baby died aged 5 months at Hare Street, Bilston, on 10 May 1843 of 'teething diarrhoea' lasting three weeks, and was buried at St Leonard's.

The Post Office Directory of 1850 records Mrs Ann Fowler as licensee of The Old Crown pub in Bridge Street; but by the following year the Fowlers had moved to the Horse & Jockey in Church Street, whose previous landlord had been Ann's brother-in-law Samuel Holloway.

The census for that year (1851) shows the family as:
Ann Fowler, head, widow, aged 48, licensed victualler
Henry, son, aged 30, timber merchant's clerk
William, son, aged 21, butcher
John, son, aged 16, scholar > all born at Bilston
Ann, daughter, aged 13, servant
Sarah, daughter, aged 11, scholar
Sarah Parker, granddaughter, aged 4
Serena Wiers, servant, aged 20, born Sedgley.
The family's other daughter, Esther Betsy (19) was at the home of her uncle William Shale in Middlefield Lane.

On the 1861 census Ann Fowler and her family were still at the Horse & Jockey:
Ann Fowler, widow, aged 66, licensed victualler
John, son, aged 26, sheet metal worker
Sarah, daughter, aged 21
Betsy Parker, granddaughter, aged 12, scholar > all born Bilston
William Parker, grandson, aged 5
Thomas Goodman, servant, aged 27; brewer
Sarah Palin, general servant, aged 18.

Ann Fowler was a beneficiary in the Will of her brother Joseph Shale (died 1864). On the 1871 census she was living at 53 Willenhall Road (next to the Cock Inn), an annuitant aged 74, with a house keeper, Betsy Fellows, aged 34. She died at Bride's Row, in the Cold Lanes area of Bilston, on 19 April 1874, aged 76. Her death certificate describes her as the widow of Thomas Fowler, japanner, and gives cause of death as 'old age'. Betsy Fellows was present at the death.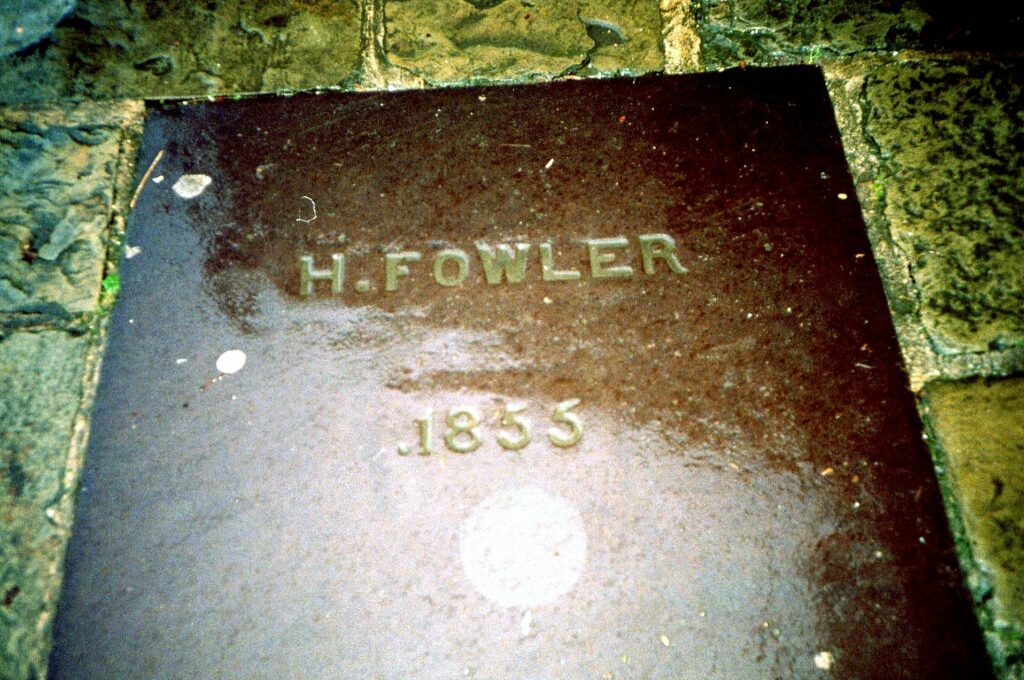 Thomas and Ann Fowler's second son, my great-great-grandfather Thomas, married Rebecca Ferrington at All Saints' Sedgley on 9 January 1848. The church record shows him to be full age, a metal heater, of Bilston, son of Thomas Fowler, japanner; and Rebecca also full age, of Bilston, daughter of Richard Ferrington, miner. The witnesses were John Davis and Jane Davis (bride's sister and brother-in-law).

On the 1851 census the family was living at 39 Bridge Street, Bilston:
Thomas Fowler, head, aged 25, furnace man
Rebecca, wife, aged 29
John, son, aged 1 year > all born Bilston
Maria Parker, sister, married, aged 29
Elizabeth (Maria's daughter) aged 8, scholar
Alfred (Maria's son) aged 1

Thomas and Rebecca had four children: William, bp at St Mary's Bilston on 29 June 1848, died aged two weeks; my great-grandfather John born 13 September 1849 at Bridge Street; a daughter Ann bp at St Mary's, 24 April 1851, died just before her first birthday; and a second daughter Sarah, born at Bridge Street on 1 January 1853.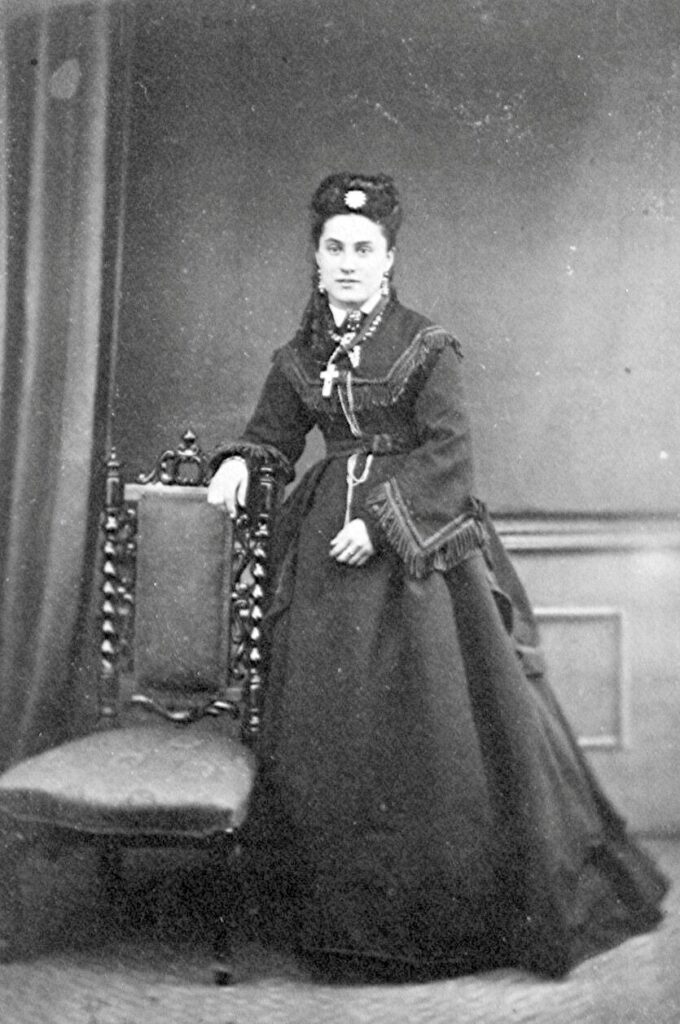 Thomas Fowler died at the age of 30 on 15 October 1856 at Bridge Street, probably at The Old Crown. Cause of death was given as spinal disease (not certified), and his brother Henry, then living at Broad Street, attended his death. Occupation was shown as publican, so he had ceased working as a furnaceman sometime in the five years before his death.

His widow Rebecca was licensee of The Old Crown in 1858. She remarried on 6 October 1859, to Peter Nixon, at St Mark's Wolverhampton . The marriage certificate gives the bridegroom as a bachelor of 25, a carpenter, son of James Nixon, woodcutter, and the bride as a widow of 34, daughter of Richard Ferrington, deceased. Both gave their residence as Newbridge, Tettenhall, at the time of marriage. The witnesses were Martha and Philip Bate, the bride's sister and brother-in-law.

On the 1861 census the family was still at The Old Crown in Bridge Street with Rebecca's two children, who were using their stepfather's name:
Peter Nixon, head, aged 25, publican; born Cheshire
Rebecca Nixon, wife, aged 37; born Bilston
John Nixon, son, aged 11; born Bilston
Sarah Nixon, daughter, aged 8; born Bilston.

Some time during the next ten years they moved to The Horse & Jockey pub at 79 Church Street, probably taking over the licence from Ann Fowler. They were recorded here on the 1871 census:
Peter Nixon, aged 36, publican employing one man
Rebecca, wife, aged 46
John Fowler, son, aged 21, engine fitter at works
Sarah Fowler, daughter, aged 18, bar assistant.
Also living on the premises was assistant brewer Thomas Goodman, aged 39, from Birmingham, who had been recorded here on the 1861 census.

Peter Nixon died on 2 February 1880, aged 45, and on the 1881 census his widow Rebecca, aged 56, is listed as the manageress of a liquor shop at 79 Church Street, Bilston (The Horse & Jockey). At the same address were Eliza Bate, 18, general servant, and Thomas Goodman, 50, the brewer shown here on earlier censuses.

On the 1891 census Rebecca is recorded as 67, and living alone 'on her means' at Thompson Street, Bilston. She died there on 31 January 1896, aged 73, and was buried at St Leonard's church four days later.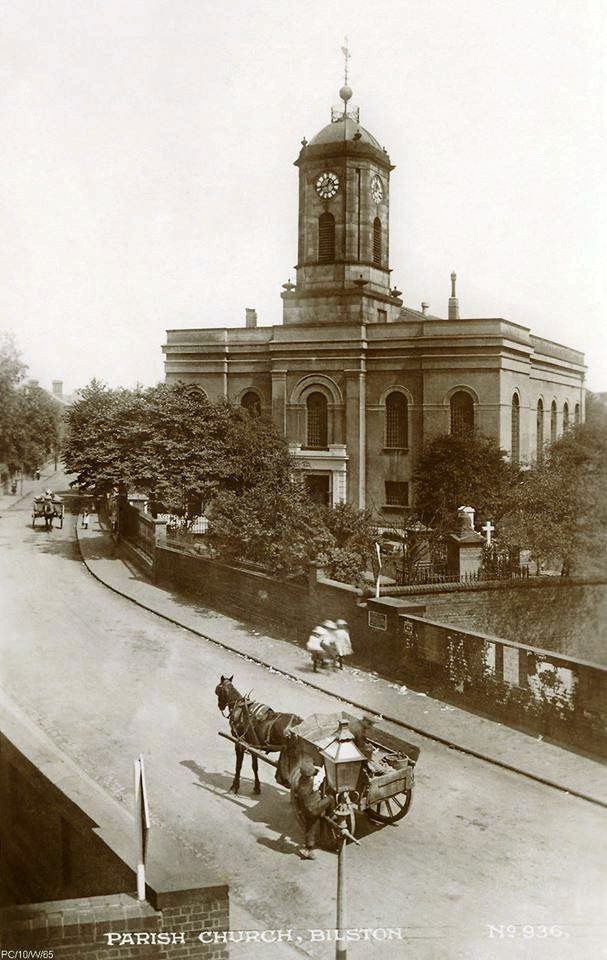 My great-grandfather John Fowler married Ann Mariah Johnson on 22 July 1873 at St Thomas's Church, Granville Street, Birmingham. On their wedding certificate he is shown as a bachelor, occupation engineer, living at Varna Road, son of Thomas Fowler, iron worker. Mariah is shown as a spinster, living at Great Colmore Street, daughter of Joseph Johnson, brass founder. (She seems to have been known by her second name, not her first one. She signed my grandfather's birth certificate as Ann Mariah née Johnson, although her marriage certificate shows her as just Mariah; and her death registration is in the name of Ann Maria.)
John Fowler's sister, Sarah, married Ann Mariah's brother, Joseph, at Moxley, Willenhall, on 2 February 1873 (Sarah died in July 1917, aged 64).

The 1881 Bilston census shows John Fowler's family living in Hartshorn Street:
John Fowler, engineer and brass founder, born Bilston, aged 31
Maria Fowler, wife, born Bilston, aged 31
Maria, daughter, born Bilston, aged 7
Thomas, son, born Bilston, aged 5 – my grandfather
Elizabeth, daughter, born Bilston, aged 2
Henry H., son, born Bilston, aged 5 months.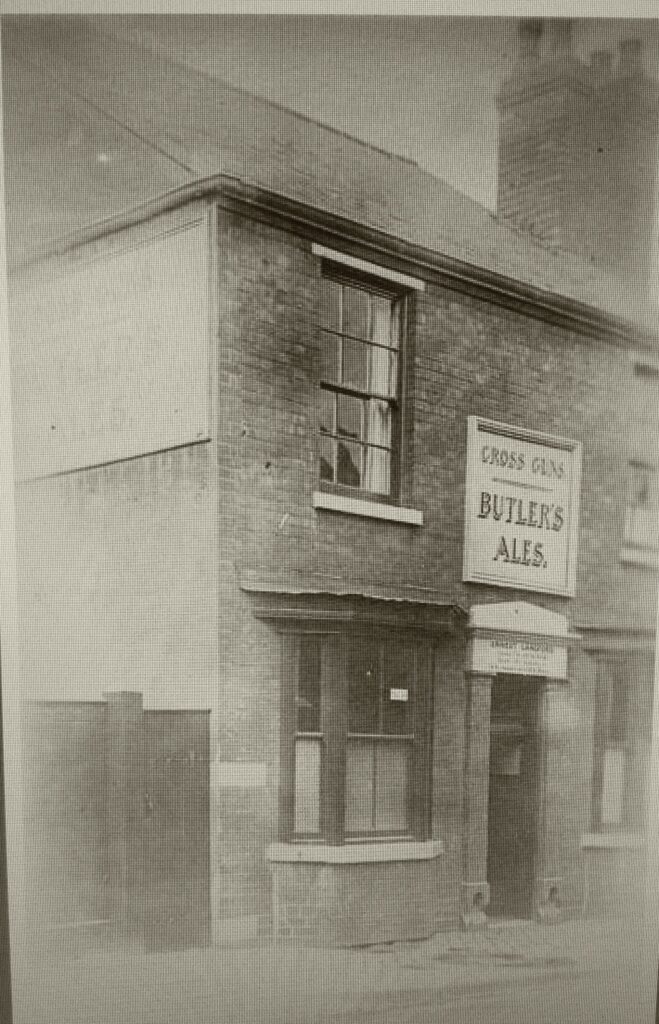 Thomas Nixon Fowler, my grandfather, was born on 19 December 1875 at Bilston. He took his second name from his step-grandfather, Peter Nixon, sometime landlord of The Horse & Jockey in Church Street.
His brother Henry Howard was born on 9 October 1880, and baptised at St Leonard's on 10 February 1881.
The two daughters listed on the 1881 census were Marie baptised as Maria on 15 January 1874, and Lizzie who had been baptised Elizabeth Shale Fowler on 6 June 1878. A third daughter was Florence Anne, known as Florrie, born on 25 February 1883. All the children were born at Hartshorn Street.

Sometime after 1881 the family left Bilston to live in Gateshead (Lizzie remembered them moving 'up north' for a time). My great-grandmother Ann Mariah died there aged 40 on 28 June 1890. Her death certificate gives the address as 22 Prospect Street, and the cause of death as phthisis (wasting of the lungs, similar to TB). She was brought back to Bilston to be buried and was laid to rest in a bricked grave in the cemetery there on 1 August, more than a month after her death.

When the 1891 census was taken the family was still living at 22 Prospect Street, Gateshead:
John Fowler, head, widower, aged 41, engine fitter, born Bilston
Maria, daughter, aged 17
Thomas, son, aged 15, apprentice brass founder
Elizabeth, daughter, aged 12, scholar
Henry, son, aged 10, scholar
Florence, daughter, aged 8, scholar.

They didn't stay many years in Gateshead, apparently going to Gloucester for a while: a deed of conveyance dated 22 April 1896 records John Fowler, engineer, living at 112 New Street, Gloucester. The deed relates to houses in Thompson Street, Bilston, his mother's property, which he inherited together with his sister, Sarah Johnson, wife of his late wife's brother Joseph Johnson of Bilston, brassfounder. (On the 1891 census Sarah, 36, and Joseph, 38, were living at Tuffley, Gloucestershire, with their son Joseph jnr, 17.) The probate of his mother's Will, dated 1896, shows him at the Gloucester address.

The 1901 census shows that the family now back in Bilston, living at 9 Stafford Street, in the parish of St Luke's:
John Fowler, aged 51, widower, engine fitter, born Bilston
Maria, daughter, aged 27, single, born Bilston
Thomas, son, aged 25, single, iron moulder, born Bilston
Lizzie, daughter, aged 23, single, born Bilston
Florence, daughter, aged 18, single, born Bilston
*Mary, daughter, aged 6, born Bilston

*Mary, known as May, was the illegitimate daughter of Marie Fowler (see below).

The 1901 census also shows the younger son, Henry Howard Fowler, lodging in Gloucester at 81 Seymour Road:
James Clark, head, aged 48, born Wolverhampton; iron moulder
Mary Clark, wife, aged 46, born Bilston
Henry Fowler, boarder, aged 20, born Bilston; iron moulder
(On the 1881 census, James L. Clark, 28, and his wife Mary, 26, were living at Green Lanes, Bilston, with their 8 year old daughter Alice.)

Henry (Harry) married his cousin Edith Gwendoline Thomas at Bilston on 12 May 1907. The marriage certificate describes him as a moulder, aged 26, living at Short Street; father John Fowler, fitter. His bride, who was born in Glasgow, was 20, living at Wellington Road, daughter of Harry Wallace Thomas, steel works manager (her mother was Martha Johnson, sister of Harry's mother Ann Mariah). Their witnesses were Thomas Edward Johnson and Henry's sister, Florence Anne Fowler (see below for their family). On the 1911 census Harry Fowler, his wife and two infant sons were living at 4 Fletcher Street, Bilston, with his maternal grandfather Joseph Johnson, aged 91, and aunt Sarah Johnson, aged 56. In 1939 the family were recorded at 94 Wellington Road, with Harry's widowed mother-in-law Martha Thomas. Harry was working as a works clerk and two daughters were still at home: Edith (b.1917) a telephone operator, and Marie (b.1921) a typist. Harry Fowler died of bowel cancer at Bilston in June Q 1953, aged 72. His widow Edith died in 1966.

By the time the 1911 census was taken, my great-grandfather had moved to 98 All Saints Road, Wolverhampton, with his unmarried children:
John Fowler, head, aged 61, commission agent
Maria, daughter, aged 37, house keeper
Thomas, son, aged 35, iron moulder (hollow-ware)
Florence, daughter, aged 28, shop assistant (pawnbroker)
May, grandaughter, aged 15, shop assistant (pawnbroker).

At the time of his marriage to my maternal grandmother, May Tufft, at St Leonard's on 13 October 1918, my grandfather Thomas Nixon Fowler was living with his brother Henry's family at 4 Fletcher Street, Bilston. He is shown on his marriage certificate as a bachelor, aged 43, occupation moulder. One of the witnesses to the wedding was his sister-in-law Edith Gwendoline Fowler.
My mother, Gwendoline Fowler (named after her), was born at 4 Fletcher Street on 21 March 1919. By the following year the family had moved to 6 Vine Street in Bilston, where my grandfather died from cancer of the stomach on 2 June 1920. He was buried in the Fowler family vault at St Leonard's church three days later.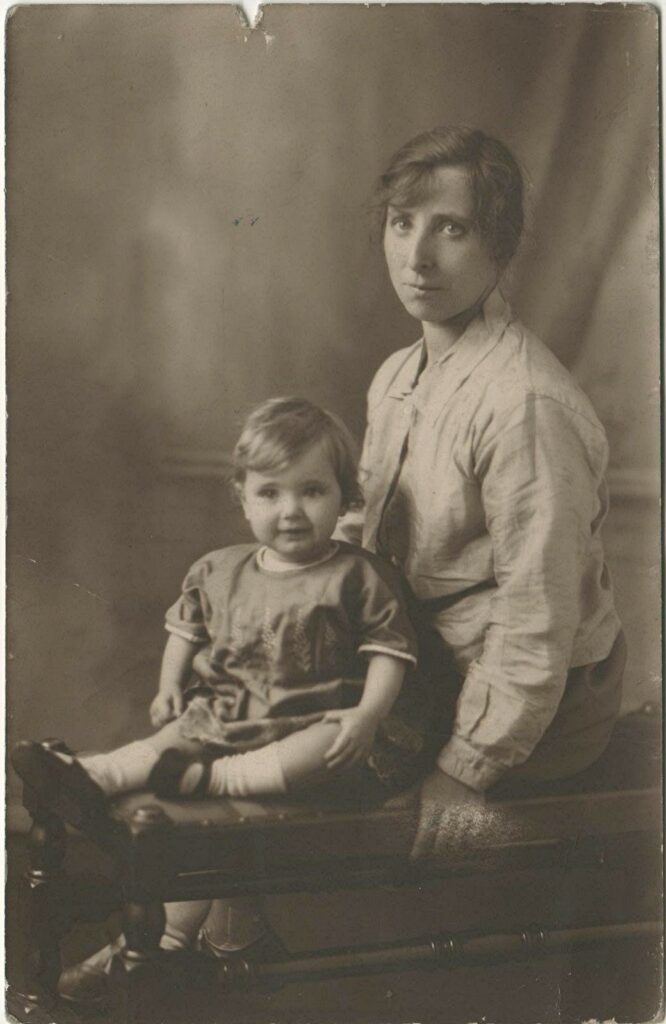 Some time between leaving Bilston and moving to Wolverhampton, my great-grandfather John Fowler had lived at nearby Woodsetton. In a codicil to a Will dated 24 November 1916, his cousin William Henry Fowler left £1,000 (£56,000 at today's value) to 'my cousin John Fowler, now or late of Hockley, Woodsetton, in the parish of Sedgley, colliery proprietor, a son of the late Thomas Fowler deceased'.

John Fowler died at 98 All Saints Road, Wolverhampton, on 28 January 1922.  In his own Will, dated four days earlier, he bequeathed 'all I die possessed of' to his spinster daughter Marie: the gross value of the estate was £925.1.0 (£41,450 at today's value). The witnesses were his son-in-law, William Poulton, of 11 Cooper Street, Bilston, married to Lizzie, and a neighbour, Annie Louisa Jones, of 97 All Saints Road.

My grandfather's sisters:
• Florence (Florrie) married Thomas Alfred (Alf) Cox in 1917. Their children were John J.F.Cox (known as Jeff) 1924-2010; and Joyce M.F.Cox, born 1926, who married Harold Fothergill in 1949 and became a noted local golfer.
• Maria (Marie) never married.  She had a daughter out of wedlock, born at Gloucester on 9 December 1895 and baptised Edith Sarah Marie (but known as May) who was brought up as her sister – this is the six-year-old Mary shown on the 1901 census.  May married William Arrowsmith in 1924 and they had a son, William (married Barbara Thomas 1953) and a daughter, Marie, who in 1945 married an American GI, Clyde Kennedy, and settled with him in Colorado, where they are still living.  Marie Fowler died at 98 All Saints Road, Wolverhampton, aged 84, and was buried at St Leonard's church, Bilston, on 5 January 1959. 
• Elizabeth (Lizzie) married William Poulton in 1904.  She died in June 1959, aged 81, and was the last Fowler to be buried in the family vault at St Leonard's: following her interment the vault was filled in and sealed.  Her daughter Florence May Poulton (born 1905) married Harry Hopkins in 1932, and her son John Poulton (born 1909) married Jane Bowdler in 1933.

My mother, Gwendoline Fowler, married John Thomas Glover at Wolverhampton Register Office on 12 April 1941. I am their only child, born at the Elspeth Nursing Home, Birches Barn Avenue, Bradmore, where I was delivered by Lady Hilary Mander of the Mander family of Wightwick Manor. I was christened at Christ Church, Tettenhall Wood – my parents were living close by in a cottage (since demolished) in Ormes Lane, at the top of The Holloway.
(Lady Hilary was doing war service as an auxiliary nurse. My mother told me that she had no idea how to light a fire, having always had servants to do so, with the result that when my mother, during her confinement, asked for a fire to warm the room, she had to get out of bed herself to show Her Ladyship how it was done.)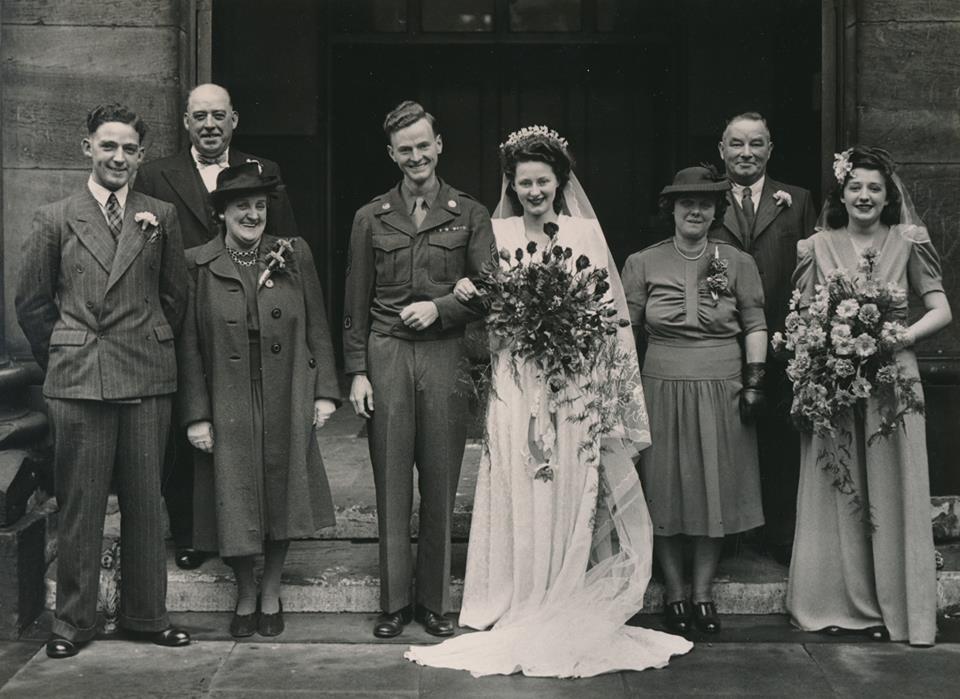 The children of Thomas and Anne (Shale) Fowler:
• Henry became a millionaire coal master and iron master see my biography on the Wolverhampton History & Heritage Society website – http://www.historywebsite.co.uk/genealogy/HenryFowler/HenryFowler01.htm. He married his cousin, Eliza Holloway, at Bilston on 29 April 1852, and died at The Limes, Sedgley, on 18 July 1885. Their younger son, Samuel Thomas, was born in July 1855 but died shortly before his second birthday. The elder son William Henry (born 1853) married Jessie Margaret Macdonald at Cheltenham on 11 April 1893, and died at Cheltenham on 15 December 1920. His widow Jessie died there in 1952, aged 87. All four members of the family are buried in the crypt at All Saints' church, Sedgley.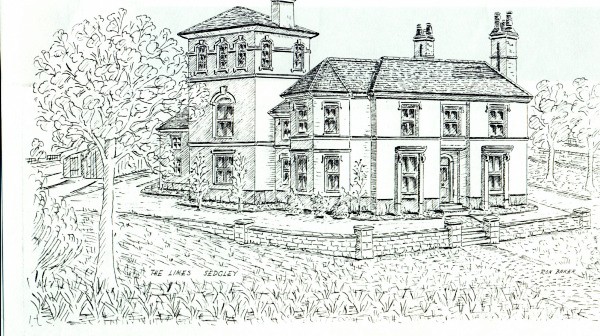 • William became a master butcher with a shop at 36 Church Street, Bilston. His first wife was Rachel Thompson, whom he married at Holy Trinity church, West Bromwich, in 1853 (she died in 1866, aged 37). Their children were Ann, 1854; Betsy, 1855 (died in infancy); Sarah Jane, 1857 (died aged 9); Henry, 1858 (died in infancy); William, 1860 (died in infancy); Alice, 1862 (died aged 4); Rachel, 1864; and Alfred, 1866 (died at 4 months). By his second wife, Elizabeth Griffiths (nee Cadman) a widow whom he married at St Matthew's, Wolverhampton, in 1867, he had Emma, 1868; William Thomas, 1870; Sarah Ann, 1872; Alice and Henry, 1874; Frederick, 1876; and Stephen, 1879. Another child, John Burnaby Fowler, died soon after birth in May 1885. On the 1881 census William and Elizabeth are recorded with eight children still at home, aged from 1 to 21 years old. Curiously, there is an entry in the register of Monmore Green Primitive Methodist chapel, Wolverhampton, for a Henry Fowler, baptised on 9 January 1873, son of William Fowler of Bilston, butcher, and Sarah Jane – possibly an irregular birth. William's wife Elizabeth died aged 58 at Brook Terrace, Bilston, in 1897; and William himself died aged 69, also at Brook Terrace, on 3 February the following year, and was buried at Bilston cemetery six days later.
• John was a metal worker and Bilston publican, keeping a number of pubs including Noah's Ark, Wolverhampton Street (1860), The Brown Jug, Temple Street (1866), The Leopard at 53 Church Street (1870), The Castle at 77 Church Street (1884) and The Pheasant, Broad Street (1897). He married his first wife, Sarah Ann Hartill, in 1865. After her death in 1876 aged 35, he married in 1877 Clara Maria Cooper, who died in 1881 aged 24. His third wife was Emma Elizabeth Hancock, whom he married at Coseley in 1883 and who died two years later aged 22. His fourth and final marriage was to Phoebe Ann Moore in 1887 when he was 53 and she was 20. A trade directory of 1901 records him as a beer retailer at 76 Broad Street; but on the census for that year he was listed as retired and living in Hartshorn Street with wife Phoebe Ann, and their 11 year old daughter, Annie, born 1889 (their other daughter, Elizabeth, born 1891, was staying at the home of her maternal aunt in West Bromwich). John Fowler died at 41 Hartshorne Street, Bilston, in April 1909, aged 74. His wife Phoebe outlived him by just two years, dying in 1911.
• Esther Betsy (recorded simply as Betsy on the 1841 census) married coal master Stephen Cole at Bilston 14 June 1853. Their children included William Augustus (1854), Alfred Ernest (1857), Alice Annie (1859), Elizabeth Evelyn (1861), Clara Gertrude (1863) and Edith Helena (1865). Stephen Cole, owner of The Rookery colliery at Ettingshall, died in 1874, aged 51, and in 1881 Esther Betsy was living with three of her daughters at 9 Ettingshall Road, Sedgley. The census gives her occupation as colliery proprietor. In 1901 she owned a boarding-house in Camden, London, and was recorded here with her unmarried daughters Elizabeth and Edith, and grandchild Violet (daughter of her son Alfred). Esther Betsy died on 7 Nov 1907 at 72 Talford Road, Streatham Hill, Surrey, leaving effects worth £117.16.3.
• Ann, baptised Mary Ann, married Richard Thompson, a Bilston butcher, at Sedgley, 8 Mar 1857. Their children, baptised at St Mary's, Bilston, were: David (19 Dec 1858, died aged 4 yrs 11 mths), Sarah Ann (18 Mar 1860, died aged 7 weeks), William (6 Jan 1861, died aged 1 month), Annie (26 Jan 1862), Clara (born 31 Jan 1864), Sarah Elizabeth (8 Apr 1866) and Catherine (1868). The family emigrated to the USA in 1871 and settled in New York, where a son was born in 1873. By 1880 Richard Thompson had died, and Ann was registered on that year's New York census living in Manhattan with her son and four daughters – the girls all employed in a match factory.
• Jane Maria married Thomas Parker, an Irish-born cordwainer, at St Peter's Wolverhampton on 2 October 1843. Their children included Sarah (1845), Emma (1847), Elizabeth known as Betsy (1848), Alfred (1850), Thomas (bp St Mary's 23 Mar 1854), William (1856) and Henry (bp 13 Apr 1858). Jane Maria (who appeared on the 1841 & 1851 censuses simply as Maria and was probably the Maria who had an illegitimate daughter, Emma, in 1842) was buried at Bilston on 3 December 1858, aged 35. On the 1861 census her widowed husband Thomas was publican of the Noah's Ark in Wolverhampton Street, Bilston, living with his children Sarah (15), Alfred (11) and Thomas (7).
• Sarah was born at the beginning of 1840. On the 1841 census she was recorded at the house of Mary Bill (née Hodson) relation by marriage of her mother, Ann Fowler. She died aged 26 and was buried at St Leonard's church on 29 May 1866.

Children of Henry Howard Fowler & Edith Gwendoline Thomas:
Joseph Johnson born at 24 Willenhall Road, Bilston, on 27 April 1908, married Brenda Bunce in 1936; Harry Thomas born 1910, married Edith Maud Johnson in 1951; Jack born 1912 – marriage details not known; Lilian born 1915, married Cyril Taylor in 1937; Edith born 1917, married Eric Mason in 1943; Marie born 1921, married Trevor Biggs in 1942.