GLOVER : Walsall, West Midlands

My great-great-great-grandfather was Timothy Glover, a curb-chain maker, born c.1790. After much research and elimination, I believe he was the Timothy Glover baptised at Meole Brace, near Shrewsbury, on 6 December 1789, son of Richard and Elizabeth (née Elks).

Timothy's first marriage took place at St Matthew's, Walsall, Staffordshire, on 4 December 1810, to Jane Whitehouse (otherwise Russell – see end note) and they lived in the area of Park Street. The church register gave Timothy's occupation as factor (i.e. manufacturer, making saddlers' ironmongery). The witnesses to the marriage were the parish clerk, and John James, who owned an iron foundry in Ablewell Street.

The couple's children, all baptised at St Matthew's, were Mary (14 July 1811); Elizabeth (30 May 1813); Sarah (30 Apr 1815, buried 8 Dec 1818); Timothy (3 Aug 1817, died 5 May 1846 – see end note); and John (16 May 1819, buried 29 Dec 1822). The parish register gives the address for all entries as Park Street, and father's occupation as curb maker, curb filer, or lock filer.

In 1813 Timothy Glover was recorded as receiving ten pence from Molesley's Dole (one penny for each person) suggesting he was head of a household of ten, possibly because he had taken responsibility for a widowed parent and siblings.
• Molesley's Dole is believed to have begun in the mid-15th century, when Thomas Molesley bequeathed land at Bescote, Warwickshire, the revenue from which to be given each year on the anniversary of his death for the benefit of his soul and that of his wife Margaret. Subsequently one penny per member of a household was paid to all those living in the Borough and Foreign of Walsall. By the 18th century this took place annually on the 1st January, thus providing a mini census of heads of household and each household's inhabitants on that night.

In 1814 Timothy received a dole payment of fourpence; in 1815 sixpence; in 1816, 1817 and 1818 fivepence. In 1819 he received sixpence. Later that year his wife Jane died aged 34, and was buried at St Matthew's on 6 September. In 1820 the dole payment was fivepence; in 1821 fourpence; and in 1822 (around the time of Timothy's second marriage) he rather curiously received two seperate payments of fivepence at different addresses. The Molesley's Dole records end in 1823, in which year he got sixpence.

The 1818 Parsons & Bradshaw Staffordshire Directory lists Timothy Glover working as a bridle curb-maker in Idle Alley, off Park Street. In 1834 he is recorded in White's Gazetteer & Directory, working as a curb-maker in St Paul's Row; and similarly in Pigot's Directories for 1835 and 1842 (the year of his death).

Timothy's second marriage took place in 1821, when he wed Hannah Edwards at All Saints, West Bromwich, on 31 December that year. Their witnesses were James Mills (who later married Hannah's sister, Frances) and Richard Stanley, churchwarden, and they married with parental consent.

The family was now living at St Paul's Row, just off Park Street, Walsall. In 1823, the year their son William was born, Timothy received seven pence dole money. Their other children were Eliza, known as Louisa (bp. St Matthew's 1 Feb 1824); Elizabeth, known as Betsey (2 Apr 1826); John (15 Feb 1829); Sarah (3 Apr 1831); and my great-great-grandfather Thomas (5 Jan 1834) – see end notes.

Timothy became a widower for the second time on 5 November 1839 when Hannah Glover died aged 45 of apoplexy at St Paul's Row and was buried at St Matthew's three days later. Present at her death was Phoebe Mills (née Stokes, living nearby in Badgers Court).

The 1841 census records the family living in Idle Alley, off Park Street:
Timothy Glover, aged 50, curb maker
Louisa Glover, 18, stitcher
William Glover, 18
Betsey Glover, 15, stitcher } all born Staffordshire
John Glover, 12
Sarah Glover, 8
Thomas Glover, 6.

Timothy Glover died on 13 February 1842 at St Paul's Row, Walsall and was buried at St Matthew's three days later. His death certificate gives his age as 51, occupation curb maker, cause of death – diseased liver. Witness to the death was Phoebe Mills, who had also been present at the death of Timothy's wife Hannah just over two years earlier. (Phoebe died in 1844, aged 33).

The 1851 census records my great-great-grandfather Thomas as an apprentice chainmaker, aged 17, lodging at 206 Duncalf Street, Walsall Foreign, with chainmakers named Mills – probably the same family that his aunt Frances Edwards had married into (see Edwards family, below). The census also shows his brother John, a chainmaker, aged 22, unmarried, lodging at 146 Wisemore, Walsall Foreign, with his brother-in-law James Newey, who had married their sister Louisa in 1849.

On 25 February 1854 Thomas Glover married Elizabeth Fitch, daughter of John Fitch (see FITCH family). The marriage certificate gives his age as 22, occupation curb maker, address Wisemore, father Timothy Glover, curb maker. The witnesses were Thomas's sister and brother-in-law, Elizabeth and William Cooper.
See end notes for report of court proceedings in 1859.

On the 1861 census the family are recorded at The Fox, 35 Stafford Road, Walsall:
Thomas Glover, head, aged 28, victualler; born Walsall
Elizabeth, wife, aged 29; born Grantham
Amelia A., daughter, aged 6; born Walsall
Elizabeth, daughter, aged 4; born Walsall
John, son, aged 2; born Walsall.

Jones's Mercantile Directory, 1865, records Thomas Glover as landlord of The Fox inn on Stafford Road, and a curb-chain maker.

On the 1871 census the family was at 82 Green Lane, Walsall Foreign:
Thomas Glover, head, 37, bush & chain maker & butcher; born Walsall
Elizabeth, wife, 38; born Lincolnshire
Amelia Ann daughter, 16; born Walsall
Elizabeth, daughter, 14; born Walsall
John, son, 12; born Walsall
Sarah Jane, daughter, 1; born Walsall.

Sarah Jane was baptised in Walsall on 22 May 1870. The other two daughters were Amelia Ann, baptised 30 July 1854; and Elizabeth, baptised at St Peter's, Walsall, 22 June 1856. The only son, John Thomas (my great-grandfather), was baptised on 13 June 1858.

By the time of the 1881 census Thomas's family was still at 82 Green Lane:
Thomas Glover, aged 46, born Walsall; chain manufacturer
Elizabeth, aged 48, wife, born Walsall (actually, Grantham, Lincs)
John Thomas, aged 22, son, born Walsall; chainmaker
Sarah J., aged 11, daughter, born Walsall; scholar.

Thomas Glover died at 82 Green Lane, aged 49, on 7 March 1883. Cause of death was cirrhosis of the liver, and his son John Thomas Glover (then living at Proffitt Street) was present at the death.

On the 1891 census, Thomas's widow Elizabeth was living at 77 Regent Street, Walsall:
Elizabeth Glover, head, widow, aged 59, born Walsall (sic)
Sarah Jane, daughter, aged 21, born Walsall; draper's assistant
Emmanuel Perkins, boarder, aged 20, born Walsall; tanner
Amelia Ann Moss, daughter, aged 37, born Walsall
Alfred Moss, son-in-law, aged 37, born Walsall; butcher
Beatrice Amelia Moss, granddaughter, aged 11, born Walsall; scholar
Howard Moss, grandson, aged 6, born Norton Canes, Staffs.

• Alfred Moss, son of Arthur & Sarah Moss (née Prince), married Amelia Ann on 16 December 1878. On the 1881 census they were living at 31 Butts Street, Rushall, with 5 month-old Beatrice.
Alfred's brother, Richard Reynolds Moss (also a butcher) married Amelia's sister, Elizabeth Glover, on 24 May 1880. On the 1881 census they were living at 100 Green Lane, Walsall Foreign; and on the 1891 census they had five children: Florence (9), Ernest (7), Thomas (6), Ada (5) and Sadie (2). Sometime after 1891 the family moved to Tamworth, where Richard Reynolds Moss died in 1899, aged 43. On the 1901 census his widow Elizabeth was living there at 35 Lichfield Street with her children, Florence Sophia (19) Ernest Reynolds (17) Thomas Harold (16) Ada Elizabeth (14) Sarah Edith (11) Richard Bertram (10) and Elsie Maud (7).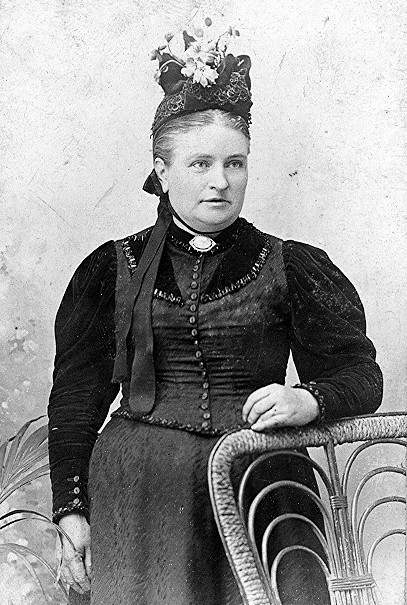 On the 1901 census, Elizabeth Glover was living with Amelia and Alfred at 33 Wolverhampton Road, Walsall:
Alfred Moss, head, aged 47, born Walsall; butcher, working at home
Amelia A.Moss, wife, aged 46, born Walsall
Howard Moss, son, aged 16, born Norton Canes; iron tube sawyer
Horace A.Moss, son, aged 10, born Walsall
Beatrice A.Moss, daughter, aged 20, born Walsall
Elizabeth Glover, widow, mother-in-law, aged 68, born Grantham.

By 1911 Alfred Moss had given up his butcher's shop to become a dairyman, and the family had moved to 418 Wolverhampton Road. His older son Howard, now 26, was working as a house painter, and the younger son, Horace, 20, had become a leather currier. Elizabeth Glover, aged 78, was still living with the family.

Elizabeth Fitch Glover died at Walsall in 1918 aged 86, outliving both her daughters Elizabeth Moss, who died at Walsall in 1909, and Amelia Ann Moss who died there aged 57 in 1912.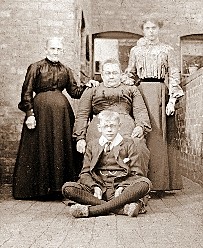 Elizabeth Glover's youngest daughter, Sarah Jane, married Joseph Parker at Walsall in 1894. On the 1901 census the couple were living at 147 Green Lane with their two children Florence Elizabeth aged 2, and Joseph aged 9 months. Ten years later they were at Bloxwich Road, with a month-old baby, Frank Thomas (another child had died earlier). Joseph and Sarah Parker were still at Bloxwich Road in 1939, aged 68 and 70, Joseph working as a saw mill manager.

My great-grandfather was John Thomas Glover, born at the beginning of June 1858. On 31 May 1881 at St Matthew's, Walsall, he married Ellen Fenn, daughter of Samuel Fenn (see FENN family). On their marriage certificate his age is shown as 23, occupation chain manufacturer, living at Green Lane, father Thomas Glover, chain manufacturer. Their witnesses were the bridegroom's sister, Elizabeth Moss, and the bride's brother, Enoch Fenn.

Their first child, my grandfather John Thomas Glover, was born on 12 March 1882 and baptised at Rushall a few weeks later on 2 April.
See end notes of sale of chainworks in 1888.

By 1891 the family had left Walsall to live at 151 Grange Road, Aston, south Birmingham. The 1891 census records the household as:
John T. Glover, aged 32, born Walsall; engine driver (locomotive)
Ellen, aged 36, wife, born Wolverhampton
John T., aged 9, son, born Walsall; scholar
Vernon, aged 7, son, born Walsall; scholar
Edgar, aged 4, son, born Walsall; scholar.

By the time of the 1901 census, the family had moved to 1 back of 61 Hollier Street, Aston, and are recorded as:
John T.Glover, aged 41, born Walsall; brewer's drayman
Ellen, aged 45, wife, born Walsall (but Wolverhampton on 1891 census)
John T., aged 19, son, born Walsall; water engineer
Vernon A., aged 17, born Walsall; mineral water bottle filler
Edgar V.F., aged 13, son, born Walsall; errand boy
Lilian M., aged 9, born Walsall.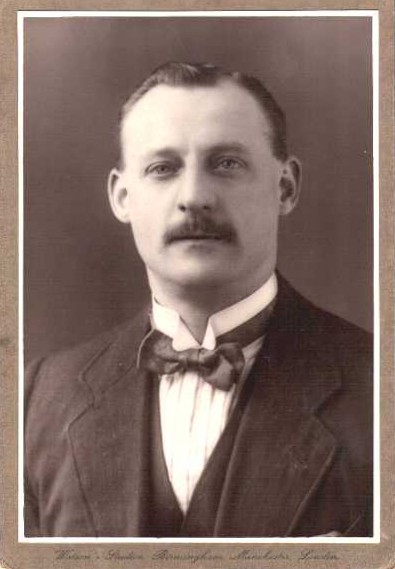 On the 1911 census they were living at 115 Lombard Street, Deritend, Birmingham:
John Thomas Glover, aged 52, married caretaker, born Walsall
John Thomas, son, aged 29, fitter and turner, born Walsall
Lilian Maud, daughter, aged 19, tube tester, born Birmingham
Nora McQue, visitor, aged 14, born Birmingham.

Ellen Glover was absent from home on this census. She was staying at Whitmore Reans, Wolverhampton, with her recently widowed brother-in-law, Henry Paskin, and his family. Henry had been the husband of Ellen's sister Hannah, who died in January that year aged 64.

My great-grandfather John Thomas Glover died at Birmingham on 16 March 1912. The death certificate gives the place of death as the People's Hall in Hurst Street (where his eldest son was to marry in 1916). Cause of death was chronic bronchitis and syncope, fainting caused by anaemia of the brain, which suggests that he suddenly collapsed and died. At the time of death he was still living at 115 Lombard Street, and his occupation was general labourer.

His widow, Ellen Fenn Glover, died on 3 June 1928, aged 73, of heart failure brought on by chronic bronchitis. She had been living with her son Edgar and his family at 32 Vaughton Street South, central Birmingham, and the death certificate describes her late husband as a chain maker, his occupation before the family left Walsall sometime in the 1880s.

My grandfather, their eldest son, was John Thomas Glover born on 12 March 1882 at Walsall. A book I have was presented to him in 1909 for good attendance at Sunday morning adult classes held in The Domestic Mission and People's Hall, Hurst Street, central Birmingham – he would then be aged about 27.
He had two brothers and a sister:
Vernon Arnold, who married Minnie Baker in 1907, became station manager of Priestfield station, Wolverhampton. Edgar Victor Fitch, a fishmonger, married Clara Adaline Inwood on 15 November 1907, and had nine children: Lilian Ivy (who died in infancy), Elsie Edna, Edgar John, Olive Ellen, Joan Fenn, Gwendoline Mary, Donald Roy, Thelma Patricia, and Barbara Kathleen. Edgar died in 1953. Lilian Maud (Lily) married Josiah Riley in 1922 and had children including Victor (1925) and Monica (1927). They lived at Paget Road, Pype Hayes, Erdington.
Some of the family moved to the Lickey Hills area, between Halesowen and Bromsgrove, and others moved down to the Bournemouth area.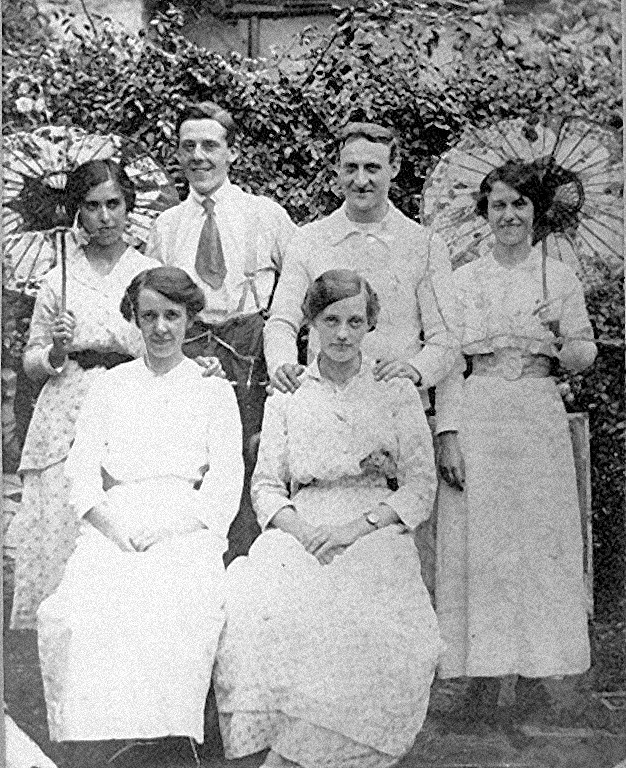 My grandfather married Annie Elizabeth Eyre (1888-1971) at Birmingham Unitarian Domestic Mission Church, Hurst Street, on 8 April 1916. The wedding certificate gives the bridegroom's age as 34, his occupation as engineer's fitter, and shows his father, a mechanical engineer, as deceased. The bride's age is given as 27, her occupation as motor lamp press worker, and her father's occupation as carpenter. The witnesses were Lilian Maud Glover, sister of the bridegroom, and William Eyre, brother of the bride. Both gave their address as the Glover family home, 32 Vaughton Street South, Birmingham, at the time of their marriage.

During their courtship they used to take cycling holidays in the Cotswolds with another young couple. After their marriage they lived at 42 Hargreaves Street, Stowheath, between Wolverhampton and Bilston, where my father John Thomas was born (12 November 1916). The 1921 census records them here. Another son, William Henry, followed (2 September 1921); then a daughter, Winifred Mary (13 July 1924) and finally Jean (23 March 1928).

Grandfather Glover taught carpentry and joinery at Bilston College evening classes. He died in 1929 of pneumonia, and is buried in Stowheath cemetery (Sept Q 1929, age given as 47). 

John Thomas Glover married Gwendoline Fowler at Wolverhampton Register Office on 12 April 1941. I am their only child, born at the Elspeth Nursing Home, Birches Barn Avenue, Bradmore, Wolverhampton, and baptised at Christ Church, Tettenhall Wood.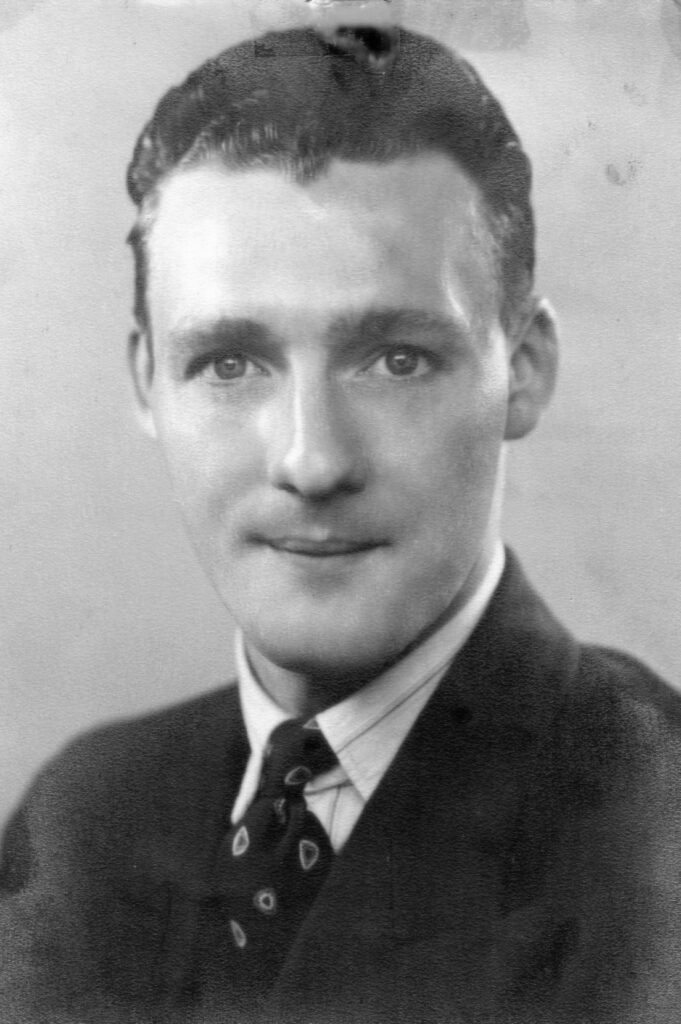 Notes:
Timothy Glover's eldest son, Timothy, baptised 3 August 1817, died at Rushall Street, Walsall, on 5 May 1846, aged 28. The death certificate gives the cause of death as bronchitis, three or four weeks, phthisis (a wasting disease, similar to TB) six months. Present was Maria Stevenson.
JANE WHITEHOUSE otherwise RUSSELL
Timothy Glover's first wife, whom he married at Walsall in December 1810, was Jane Whitehouse, stepdaughter of Isaac Russell of Walsall. A society publication, The Monthly Magazine, carried the announcement of their wedding: 'Married at Walsall, Mr Timothy Glover to Miss Jane Russell, eldest daughter of Mrs R."
Jane was the youngest child of Richard and Mary Whitehouse née Brookes, who had married at Walsall in 1780. She was baptised at Rushall on 14 November 1790 together with her older brothers William, then aged 4 years 3 months, and Thomas, aged 2 years and 3 months.
Richard Whitehouse was buried at Rushall on 1 June 1792, and less than five months later his widow married Isaac Russell at Walsall. Their children included Susanna, 1794, Joseph, 1796, and John, 1798.
Children of Timothy Glover & Hannah Edwards:
• William married Mary Ann Lunn at Wednesbury on 30 July 1848. The register records him as a musician aged 25, son of Timothy Glover, chainmaker. On the 1851 Walsall census he was working as a violin player, living at Holtshill Lane with his wife and daughter Sarah, 6. The 1861 census describes him as a blind musician, living at 4 Hateley Lane with wife Mary, 37, a stitcher, and daughter Jane, 18, also a stitcher. William died at Walsall in 1878.
• Louisa married, firstly, Joseph Brough at Wednesbury on 27 May 1844. Their son William was born c1845. Joseph Brough died in 1846. Louisa's second husband was James Newey, married at Walsall in 1849. Their children included James (bp 30 Dec 1849); Elizabeth (4 July 1852); Edward Glover (7 May 1854, died in infancy); and Sarah Jane (25 Nov 1855). James Newey died in 1858. By the 1861 census Louisa , now 36 and twice widowed, was working as a curb filer and living at 17 Hateley Lane with her children William Brough, 16, a saddler, and Elizabeth, 8; and also her sister Sarah Glover, 27, and two lodgers. Louisa died in 1878, aged 53.
• John, a chainmaker, married Caroline Bradbury at Walsall in 1854. On the 1861 census they were living at Teddesley Street with their daughters Clara Jane, aged 4, and Elizabeth, aged 1. Other children included Mary Anne, born in February 1856, died in infancy; and Caroline jnr, born in June 1862. Caroline Glover died towards the end of 1871, aged 34. On the 1881 census her husband John was lodging in Adams Street, and had not remarried. He died two years later, age given as 57.
• Sarah, unmarried, a leather stitcher, was living with her widowed sister Louisa in 1861 at Hateley Street. In 1881 she was with her nephew, William Brough, his wife Sarah, and sister Elizabeth Newey, at 85 Wisemore, Walsall Foreign. In 1891 she was at Lower Forster Street with the family of her niece Sarah Jane Tomes (daughter of Betsy & William Cooper).
• Elizabeth (Betsey) married William Henry Cooper at Walsall Wood 25 Mar 1849. On the 1861 census William, 32, was working as a victualler and bridle cutter, living at the White Lion, Portland Street, Walsall, with Elizabeth, 34, and their children Joseph, 11, George, 10, Edwin, 4, and William, 3. Their daughter Sarah Jane (bp 29 Nov 1863) married Alfred William Tomes in 1881. Elizabeth Cooper died early in 1875 and the following year her widower re-married, to widow Mary Ann Simmons.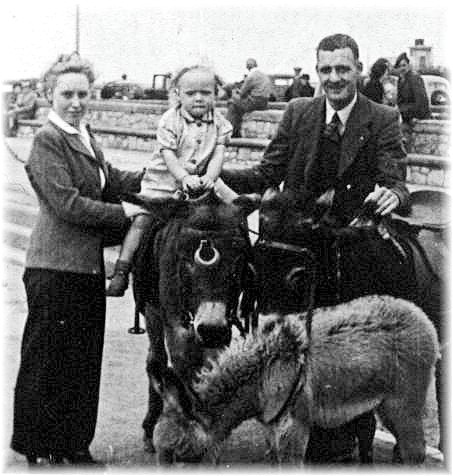 EDWARDS Family:
Timothy Glover married Hannah Edwards with parental consent at West Bromwich on 31 December 1821. One of their witnesses was James Mills, who married Hannah's sister Frances Edwards at St Matthew's, Walsall, on 13 September 1824. On the 1851 Walsall census James and Frances Mills are shown living in Stafford Street, Walsall Foreign, with their five children. James was aged 51, a snaffle bit maker, and Frances aged 49.
Hannah and Frances were the daughters of John and Mary Edwards who had married at St Matthew's on 17 October 1784 (she had been Mary Turner, a widow).

Children of John and Mary Edwards baptised at St Matthew's church, Walsall:
Amos 18 June 1785
John 22 June 1788, died 1790
Ann 5 Apr 1790
John and James 28 May 1792 (twins)
Maria and Hannah 22 Sept 1794 (twins)
Elizabeth 1 Apr 1799
Frances (Fanny) 2 Jan 1803
The following Court report appeared in the Walsall Free Press Saturday 25th June 1859. The case involved Thomas Glover, his wife Elizabeth, Elizabeth's sister Ann Fitch, and John Brough, a relative by marriage of Thomas Glover's sister Louisa. The Slaters' Arms pub no longer exists, but stood in Littleton Street where Thomas Glover's father-in-law, John Fitch, died in 1881.
Row in a Public-House
A somewhat complicated case came before the attention of their worships this morning, which may be described as follows:-
Caroline Bradley charged Ann Fitch with having assaulted her on Saturday last; Thomas Glover charged the above-named Caroline Bradley with wilfully breaking a pane of glass; and Elizabeth Glover charged the same Caroline Bradley with an assault. Mr Ebsworth appeared for the defence. The two women were well dressed and tolerably good looking; but it appeared from the evidence that their tempers and conduct were far from being amiable. Bradley stated that on Saturday night she went to the house of Glover, who keeps the Slaters' Arms, in Littleton-street, and there saw John Brough, who was playing at cards. She asked him to come out, and this seemed to annoy Ann Fitch, who thereupon struck her (Bradley), and used some very improper language. Bradley, however, admitted that she was at the time very much disposed to inflict chastisement upon Fitch. The young man Brough gave some brief testimony of a confirmatory nature, substantiating to some extent the evidence of complainant. In support of the other charge, Elizabeth Glover was called and sworn. She stated that Bradley was requested to leave the Slaters' Arms on the night in question; that she refused to do so, used some very violent and filthy language, and finally committed an assault upon her and Fitch. A man named Haitley confirmed this statement, and added that he saw Bradley wilfully break a pane of glass in one of Glover's windows. Bradley said that she broke the window by accident, she having aimed a blow at the head of her sweetheart, who dexterously ducked his head, and her fist consequently went through the window. The magistrates dismissed the charge against Fitch, and ordered Bradley to pay 20s and costs, or in default one month's imprisonment with hard labour.

The following sale notice appeared in the Walsall Advertiser and Newspaper Saturday 3rd November
1888:

FREEHOLD INVESTMENT, GREEN LANE, WALSALL
To be sold at auction by Messrs Watkins & Powell (by the order of the mortgagee) at the Stork Hotel, Walsall, on Tuesday, the 20th day of November 1888, at 6 for 7 o'clock in the evening precisely (subject to conditions incorporating the common form conditions of the Birmingham Law Society) :-
The freehold dwelling-house situate and being No. 82 in Green Lane, Walsall (at the corner of Regent Street) together with the two-storey building at the rear now used as Upper and Lower Warehouses, and the two-storey building used as a Chain-shop and Iron Warehouse, with Tin and Japanning Shops, with a large piece of land having an extensive frontage to Regent Street, Walsall, the whole of which are in the occupation of Mrs Ellen Glover, Chainmaker, at an annual rent of £20.
And also the four dwelling-houses adjoining, being Nos. 83, 84, 86 and 86, in Green Lane, Walsall, in the occupations of Messrs Webster and Peach, two of them being void; estimated to produce a rental of £31 4s per annum, or a total annual rental of £51 4s for the whole property.
The above property is freehold and is estimated to contain an area of 839 square yards or thereabouts.
The sale will also comprise the four-horse-power Horizontal Engine, Boiler, and two Shaking Barrels, now used by Mrs Glover. The property is well supplied with water and is most conveniently situate for trade purposes. A large portion of the purchase money may, if required, remain on mortgage.
For further particulars apply to the Auctioneers, Bridge Street, Walsall; or to Messrs C.A. Loxton & Newman, Solicitors, Walsall.

LAST WILL AND TESTAMENT of Thomas Glover
7 March 1883
This is the last Will and Testament of me Thomas Glover of Walsall in the County of Stafford Chain Manufacturer. I appoint Edward Davis Wooton of Walsall aforesaid Provision Dealer and my son John Thomas Glover Trustees and Executors thereof.
I devise the Shopping in which I now carry on my said Trade of a Chain Manufacturer and also my Business of a Chain Manufacturer which I now carry on together with all Book Debts and the balance now standing to my Credit at the Birmingham Banking Company Limited Park Street unto my son John Thomas Glover he paying to my wife Elizabeth Glover the sum of Two pounds per week and also allowing her to live in my present residence during her life and also finding a home for and supporting and maintaining my Daughter Sarah Jane until she attains the age of twenty one years.
I give devise and bequeath all the rest and residue of my Real and personal Estate to my said Trustees Edward Wooton and John Thomas Glover upon trust to permit my son John Thomas Glover to receive the rents and profits thereof during the life of my said Wife he paying the Interest from time to time accruing due on the Mortgage of my Real Estate and after the decease of my said Wife upon trust to sell the same and after payment of the Expenses thereof and Mortgage debt to hold the balance thereof in trust for my four children in equal shares and proportions.
As witness my hand this Seventh day of March One thousand eight hundred and eighty-three.
Signed by the above named Thomas Glover as his last Will in the presence of us both being present at the same time who in his presence and in the presence of each other have hereunto subscribed our names as Witnesses
William Oliver 131 Lichfield St Walsall Surgeon
Harry H.Jackson Clerk to Mr T.H.Stanley Solicitor Walsall


Proved at Lichfield the fourteenth day of June 1883 by the Oath of John Thomas Glover the Son one of the Executors to whom Administration was granted power reserved of making the like grant to Edward Davis Wooton the other Executor. The Testator Thomas Glover was late of Walsall in the County of Stafford Chain Manufacturer and died on the seventh day of March 1883 at Walsall aforesaid.
Personal Estate £113.13.4
T.H.Stanley
Solicitor
Walsall