Johnson (Wombourne and Bilston)
Johnson : Wombourne and Bilston, West Midlands

My earliest traceable ancestors on this line came from Rowley Regis in Staffordshire and for several generations used the surname Johnson alias Hunt (or Hunt alias Johnson). This practice of using a double surname seems to have been common among a number of families in the parish for about two hundred years.
Richard Johnson, son of Richard Johnson alias Hunt and his wife Elizabeth, was baptised at St Giles, Rowley Regis, in 1662. He married Ann Richards at St Giles in 1687. Their children were recorded in the baptismal register there as Hunt alias Johnson, including my direct forebear Daniel, baptised 5 May 1706. He married Mary White at St Leonard's church, Clent, on 2 March 1730/31 – his parish was noted as Rowley – and several of their children, all baptised at Rowley Regis, were likewise recorded as Hunt alias Johnson.
The youngest surviving child of Daniel and Mary was William Johnson, baptised 17 November 1745.  He followed the occupation of husbandman, or farmer, and married Sarah Edwards at St Giles on 5 November 1770.  Their older children included Benjamin (14 Apr 1771) and Mary (19 Sept 1773, died in infancy). Thereafter the family moved a short distance away to Himley, south Staffordshire, where the younger children were all baptised: William (25 Feb 1780, died 1821), Elizabeth (16 Sept 1781), John (6 Aug 1783), my great-great-great grandfather Joseph (27 Dec 1785), James and Mary (both died in infancy).
William Johnson died aged 76 and was buried at Himley on 12 June 1820; and his widow Sarah was buried there the following year on 25 March, aged 71. The abode of both was recorded as Sedgley (probably at The Straits on the border of the two parishes).
Their son Joseph Johnson married Nancy Downing by licence at St Benedict Biscop's church, Wombourne, on 25 Oct 1805. The parish register gives the bride's name as Nancy, daughter of Nicholas Downing, and bridegroom's parish as Sedgley.
Nancy had been baptised at St Benedict Biscop's on 30 March 1788, daughter of Nicholas and Sarah Downing (née Simms) who had married on 7 May 1787 at Wolverhampton. In the baptismal register her forename and that of her mother have been altered from Mary to Nancy and Sarah respectively, and the marriage licence gives her name as Ann, but on her children's baptismal records and censuses she is always named as Nancy.
(Coincidentally, I was confirmed at St Benedict Biscop's on 29th April 1956.)

On the 1841 census the family was living at Swindon, near Wombourne:
Joseph Johnson, aged 55, carpenter
Nancy, aged 52
Joseph, aged 22, nailor (my direct ancestor)
Eliza, aged 19
John, aged 16, roller of iron
Frank, aged 14
Henry, aged 12
Samuel, aged 9.
Living with them was Nancy's brother William Downing, aged 41, an agricultural labourer.

The older Johnson children had already left home by June 1841, when the census was taken. Dates for those baptised at St Benedict Biscop's church were *Sarah (25 Dec 1806), *Harriet (2 Apr 1809), *Lucy (14 July 1811), Frances (10 Nov 1813), William (15 Sept 1816), *John (31 May 1824), Francis Downing (18 Dec 1826), Henry (1 Jan 1830) and Samuel (1 Apr 1832). The parish register gives abode as Swindon, father's occupation as carpenter.
*Sarah had an illegitimate daughter, baptised Sarah Dallow Johnson, in January 1828. The child died at Swindon in December the following year. Four years later on 25 December 1833 Sarah married Samuel Bragginton at Kidderminster. Her sisters Harriet and Lucy both married on the same day, 27 August 1838, at All Saints church, West Bromwich: Harriet (29) married carpenter John Lucas, and Lucy (27) married gas fitter Joseph Fryer. Their sister Eliza (b.1822) married John Hickman, bricklayer, at St Peter's, Wolverhampton, on 9 December 1844 and spent the whole of her married life at Penkridge before dying in 1895. Their brother John Johnson married Eliza Christopher at Kingswinford in 1847.

On the 1851 census Joseph and Nancy Johnson were recorded at Swindon, Wombourne, as a carpenter, aged 66, born at Himley, and his wife, aged 63, born at Swindon. Nancy died aged 70 and was buried at Swindon on 16 November 1857.

By the time of the 1861 census Joseph was living at Broad Lane, Sedgley, with his son, William (for 1851 entry see below):
William Johnson, head, aged 45, carpenter, born Swindon hamlet
Harriett, wife, aged 43, born Halfpenny Green hamlet
Joseph, son, aged 21, carpenter, born Swindon
Ann, daughter, aged 18, born Wordsley
Harriett, daughter, aged 9, born Wordsley
Emma, daughter, aged 6, born Wordsley
Joseph Johnson, father, widowed, aged 76, carpenter, born Himley.
Joseph Johnson died at Ladymoor, Sedgley, aged 86 and was buried at Swindon on 6 February 1870.

His son Joseph, my great-great-grandfather, was born around 1820. He married Ann Jones on 18 November 1844 at St Peter's church, Wolverhampton. On the marriage certificate his occupation is shown as joiner, and his father is given as J.Johnson, also a joiner. Ann Jones's father is given as J.Jones, a puddler.

Joseph Johnson was working as a pattern maker by the time the couple's first surviving child, Thomas, was born at Ivy-house Lane, Coseley, on 22 January 1848.


Three years later, on the 1851 census the family was living at Wordsley, Kingswinford:
Joseph Johnson, head, aged 31, born Swindon; pattern maker
Ann, wife, aged 29, born Bilston
Thomas, son, aged 3, born Coseley
Ann M., daughter, aged 1, born Bilston (my great-grandmother).

• The same census records Joseph's brothers Henry, 21, Samuel, 19, and Frank, 25, all born at 'Swinn' (Swindon) working as puddlers at Bilston, and lodging in Wolverhampton Street.

Also recorded on the 1851 census was Joseph's brother William, living not far from him at Bug Pool (Buckpool) Kingswinford. (William had married Harriet Claybrook at Dudley on 9 September 1839) –
William, head, aged 33, carpenter, born Wombourne
Harriett, wife, aged 33, born Claverley, Shropshire
Joseph, son, aged 11, born Wombourne
Ann, daughter, aged 8, born Wombourne
Sarah, daughter, aged 5, born Bobbington
Thomas, son, aged 2, born Kingswinford.

Around 1856 Joseph Johnson's family moved from Wordsley to Bilston, and in 1858 Joseph was granted licence of the Barley Mow beer shop at 14 Union Street. His wife Ann became licencee in 1861. On that year's census the family is recorded as:
Joseph Johnson, head, aged 40, brass caster; born Swindon
Ann, wife, aged 38, publick beer shop; born Bilston
Thomas, son, aged 13; born Bilston
Ann Maria, daughter, aged 11; born Bilston
Joseph, son, aged 10; born Wordsley
Henry, son, aged 8; born Wordsley
Elizabeth, daughter, aged 7; born Wordsley
Sarah, daughter, aged 5; born Wordsley
Fanny, daughter, aged 3; born Bilston
Martha, daughter; aged 6mths; born Bilston
(see end notes).

Another daughter, Harriet, born at Union Street on 25 August 1859, died aged 17 days and was buried at Bilston Cemetery on 11 September.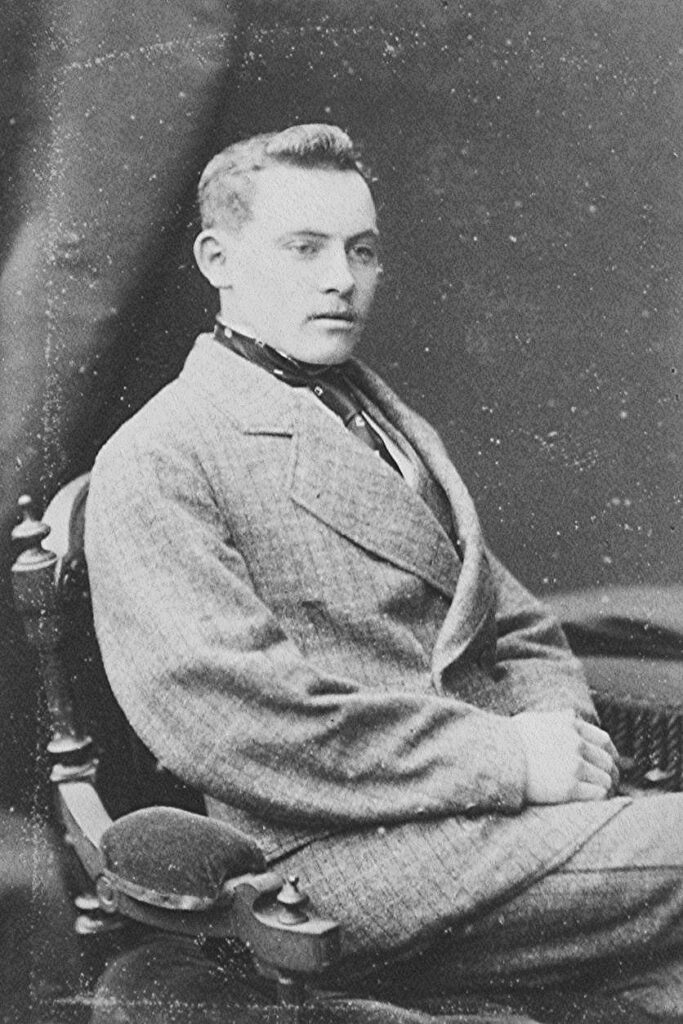 Wolverhampton Archives & Local Studies has a number of deeds relating to Joseph Johnson, dating between 1864 and 1878, involving properties in Thompson Street and Hartshorn Street in Bilston. In these deeds he is variously referred to as brass caster, brass founder and publican.
A deed of conveyance dated 1864 relates to the Cross Guns Inn at 4 Hartshorn Street, which had a brass-casting shop on site. This is where the Johnson family was probably living at the time of the next census (below) and where my grandfather, Thomas Nixon Fowler, was born.
On 5 September 1866, the Wolverhampton Chronicle reported the application by a Mr Young "for a license on behalf of Joseph Johnson, of the Cross Guns, Hartshorne-street, Bilston, and, in making the application, said the points the Magistrates had principally to consider were the character of the applicant, the suitability of the house, and the requirements of the neighbourhood. With regard to character, he handed in a testimonial signed by a number of respectable persons – the minister of the parish, the two church wardens, the overseers of the poor, and also several members of the Board of Commissioners".
"The house", he added, "was suitable in every way for the purpose, and the neighbourhood was much in want of such a place." The application was rejected.

Hartshorn Street, Bilston, 1871:
Joseph Johnson, head, aged 52, brass caster & publican, born Swindon
Anne, wife, aged 49, born Bilston
Thomas, son, aged 23, brass caster & publican, born Coseley
Ann M., daughter, aged 21, domestic servant, born Bilston
Joseph, son, aged 19, iron moulder, born Wordsley
Henry, son, aged 18, iron moulder, born Wordsley
Elizabeth, daughter, aged 16, domestic servant, born Wordsley
Sarah J, daughter, aged 14, domestic servant, born Wordsley
Fanny, daughter, aged 13, scholar, born Bilston
Martha, daughter, aged 10, scholar, born Bilston.

• Fanny was baptised at High Street Primitive Methodist chapel on 7 March 1858. The register records her father as Joseph Johnson, of Union Street, pattern maker. Martha was baptised at the same chapel on 27 November 1860. This time her father's occupation is mistakenly given as cabinet maker instead of pattern maker.

The 1872 Kelly's Directory for Bilston records Joseph Johnson as a brass founder and beer retailer in Hartshorn Street, at the Cross Guns Inn, but by the beginning of 1874 he had taken out a mortgage on "land and premises in Hartshorn Street with foundry, shopping, works and other buildings erected on it together with engines, boilers, lathes, machinery and other fixtures now being erected." This became the Britannia Brass and Iron Foundry.

In 1877 a neighbour, John Corfield, a miner owning three houses adjoining the foundry in Hartshorn Street, applied for an order concerning abatement of the nuisance caused by the working of the cupola of the foundry. Soon afterwards Joseph Johnson defaulted on his mortgage, and the land, foundry, machinery and premises were repossessed and sold on 14 June that year.

On the 1881 census the family was living at 7 Dudley Street, Bilston:
Joseph Johnson, head, aged 61, born Wombourne; brass caster
Ann, wife, aged 58, born Bilston
Sarah J., daughter, aged 24, born Kingswinford; milliner
Fanny, daughter, aged 23, born Bilston; pawnbroker's assistant
Martha, daughter, aged 20, born Bilston.

Ann Johnson died aged 63 at Thompson Street towards the end of November 1885, and was buried in a bricked grave on 1 December at Bilston cemetery.
Joseph Johnson died at the end of 1911, aged 92, and was buried at Bilston Cemetery on 27 December in the same grave as his wife Ann. That year's census, taken in April, had recorded him aged 91 in the household of his grandson Henry Howard Fowler, at 4 Fletcher Street, Bilston. Living with them was his daughter-in-law Sarah (née Fowler), aged 56, widow of Joseph Johnson jnr (she died in 1917).

My great-grandmother, Ann Mariah Johnson, was born on 29 October 1849 at Gibbet Lane, Bilston – on her birth certificate her father's occupation is shown as pattern maker – and she was baptised at High Street Primitive Methodist chapel on 13 November 1849. She married John Fowler at St Thomas's church, Birmingham, on 22 July 1873. On her marriage certificate her father is described as a brass founder and her place of residence given at Great Colmore Street, Birmingham.

Children of Joseph and Ann Johnson:
• Thomas, a brass and iron moulder, was born on 22 January 1848 at Coseley. In 1874 he married Mary Anne Skidmore, and on the 1881 census they were living at Alice Street, Bilston, with their children Amelia 5, and Thomas aged two. Their oldest daughter, Florence Annie, born in 1875, was away from home at the time of the census. On the 1891 census Thomas and Mary Anne Johnson were living at Coseley Village. His age is given as 36, his wife's as 34, and their children are Florence 16, born Priestfield, Amy (baptised Mary Ann Amelia) 14, born Bilston, and Thomas Edward 12, born Bilston. There was also a servant, Mary Dangerfield, aged 60.
• Ann Mariah – my great-grandmother (see above).
• Joseph, a brass moulder, was born at Wordsley, south Staffordshire, about 1851. He married Sarah Fowler, sister of his brother-in-law John Fowler, at Moxley, Willenhall, on 2 February 1873. In 1881 he and Sarah were living with their only child, Thomas Joseph, 7, at 86 Bedford Street, Cardiff, south Wales. Ten years later the census records them at Tuffley, Gloucestershire. Joseph died at Wellington Road, Bilston, in 1909, aged 57. His son married Amy Davies in 1894 and had two children, Arthur Andrew (1895) and Leslie Victor (1897).
• Henry (Harry), an iron moulder, was born at Wordsley c1853 and was with his parents at Bilston in 1871.
• Elizabeth was born at Ashwood, near Wordsley, about 1854. She married Edwin John Jones in 1876 and on the 1881 census they were living at 21 High Street, Bilston, where Mr Jones had a grocery business (his father, Edwin Jones snr, had a wine and spirit store next door at no. 20). Their children included Ada Ethel (baptised at Bilston 22 Dec 1876), Harry Edwin (13 Dec 1877), Gertrude Annie (16 Apr 1879 – see end article -), Bernard Leslie (2 Dec 1880), Elizabeth Dora (15 Jun 1882, died that year) and Leonard Louis (born 1884). Sometime early in the 1880s their grocery business moved to the top of Dudley Street, Wolverhampton, where it was recorded in 1891; but by 1901 Edwin and Elizabeth Jones had gone to Llandudno, north Wales, where they were running the Alexandra Hotel, Clonmel Street. Three of their children, Ada, Gertrude and Leonard, were still with them, and Elizabeth's sister Fanny was employed as bookkeeper. Sometime before 1911 Elizabeth became proprietor of The Royal Hotel at Crosby, near Liverpool. She died at a private hospital in Newhall Street, Birmingham, in August 1918, aged 62, and was buried in a bricked grave in Bilston cemetery.
• Sarah Jane was born at Wordsley 13 June 1856. In 1891 she was with her sister Fanny at 37 Chapel Ash, Wolverhampton, where they ran a small millinery business together.
• Fanny was born at Bilston 7 April 1858. In 1881 she was a pawnbroker's assistant; in 1891 she was working as a milliner and dressmaker in partnership with her sister Sarah; and in 1901 she was a bookkeeper at her sister Elizabeth's hotel, The Alexandra, in Llandudno. The 1911 census records her as hotel manageress of The Royal Hotel at Crosby, near Liverpool, of which Elizabeth was now proprietor. Fanny subsequently managed hotels in Belfast and Wolverhampton, and died in 1959, aged 101, at Overbury near Tewkesbury.
• Martha was born at Bilston 3 December 1859, and was still living at home in 1881. Around 1885 she married Harry Wallace Thomas (b. Kidderminster 1857) and within a few years they had moved to Glasgow. On the 1901 census they were living there at Dennistoun with their children Edith (b. 1887), Harry (1889), Mary (1890), Joseph (1892), Alfred (1894), Thomas (1896) and Benjamin (1901). The oldest, Edith Gwendoline, married her cousin Henry Howard Fowler (son of Martha's sister Ann Mariah) at Bilston in 1907. By 1939 Martha Thomas was widowed and living at Bilston with her daughter and son-in-law.

THE DEBUTANTE AND THE RACING HERO
My grandfather's cousin Gertrude Annie Jones married in London in 1909 when she was about 30. Her husband was Thomas Geoffrey Marriott, a building contractor who was to make his money in asphalt paving.
Their daughter Evelyn Mary was born in Kensington in 1910, and by the time she was in her early twenties her father was wealthy and influential enough for Evelyn, wearing a Norman Hartnell gown, to be presented as a debutante at the Court of King George V and Queen Mary. This probably occurred when she was 21, because on 6 October 1932, when she was 22, Evelyn got married – evidently a starry-eyed love match because her bridegroom was a university student even younger than she was.
His name was Alfred Fane Peers Fane, born Alfred Fane Peers Agabeg, and he was known simply as Fane. He had been born in India in November 1911, the only surviving son of Alfred Arakiel Agabeg, an Indian Army major whose family were originally from Armenia, and Mabel Warde-Jones, daughter of a Deputy Magistrate in one of the Indian provinces. He had been educated at Harrow and subsequently at Cambridge, where he was a noted performer in the Oxford-Cambridge ski team which defeated McGill University in Quebec in 1932.
Fane and Evelyn were married at fashionable St Mark's church, North Audley Street. Their marriage certificate gave the groom's occupation as 'student' living at The Danes, Tylers Green, Penn, Buckinghamshire; father Alfred Arakiel Agabeg (deceased), mining engineer. The bride's address was shown as 51 Putney Hill, SW15, and her father as Thomas Geoffrey Marriott, company director. A note in the margin of the parish register states 'Bridegroom's name changed from Agabeg to Fane by deed poll 1931'.
The young couple made their home at Hedsor Priory in Buckinghamshire, and early in 1935 their son, and only child, Julian Peers Fane was born. It was around this period that Fane's love of fast cars and dangerous sport combined to find an outlet in motor racing. Joining the Fraser Nash B.M.W. team he soon began breaking speed records, and in 1938 was the only British competitor in the Mille Miglia race round northern Italy, winning the class for sports cars up to 2000cc.
At the outbreak of World War II Fane enlisted as a pilot in the Royal Air Force Volunteer Reserve, attaining the rank of Flight Lieutenant; and while on a reconnaissance flight north of Trondheim in January 1942 he was responsible for making the crucial discovery of the German battleship Tirpitz hiding deep inside a fjord. Less than four months later, while flying his Spitfire back from a mission in France, this remarkable young man was killed, leaving his wife Evelyn widowed at the age of 32.
In the summer of 1946 Evelyn re-married. Her new husband was Sir George Binney DSO, a noted Arctic explorer and wartime hero who had successfully organised a series of blockade-running operations against the Germans. The couple made their home at Horham Hall, Thaxted, Essex; but the marriage was not successful and after only eight years ended in divorce in 1954.
In the spring of the following year Evelyn, now 44, married husband number three. This time he was wealthy businessman William G. Weston, and they appear to have remained together until Evelyn's death from cancer in 1981. The only other known event in her privileged yet somehow tragic life was the death of her only son, Julian Peers Fane, from a brain haemorrhage in 1968 at Lima, Peru, aged 33.