SHALE : Bilston, West Midlands

My direct ancestor was William Shale of Bilston, Staffordshire, who married Sarah Parker at Wolverhampton in 1696. Their son John, a buckle-maker, married Jane Dovey on 6 November 1723, and were the parents of Josiah Shale, who was born at Bilston in 1735.

Josiah, also a buckle-maker, married Sarah Vincent at Wolverhampton on 6 January 1756. The parish register records that he was 20 years.

The two sons of Josiah and Sarah were my forebear William (see below), baptised at St Leonard's, Bilston, on 11 January 1757, and Joseph, baptised there 30 December 1758. Sarah died the following year, 1759, and was buried at St Leonard's on 27 July.

Josiah remarried in 1762 to Mary Pynor, by whom he had eight more children, all baptised at St Leonard's: Pinor (1762, died in infancy); Richard (1764, died in infancy); Theodosia (1766, died in childhood); Richard (1767); Josiah (1769); Sarah (11 July 1771); Anthony (1774, died in childhood); and Onus (1778).

Josiah Shale was buried at Bilston on 7 April 1803. The register helpfully records his parents as John and Jane.

His eldest son, my great-great-great-great-grandfather William, married Esther Parker at St Peter's, Wolverhampton, on 1 September 1784. Esther had been baptised at St Peter's on 7 February 1762, daughter of Joseph Parker, and died at Bilston in February 1837, aged 75.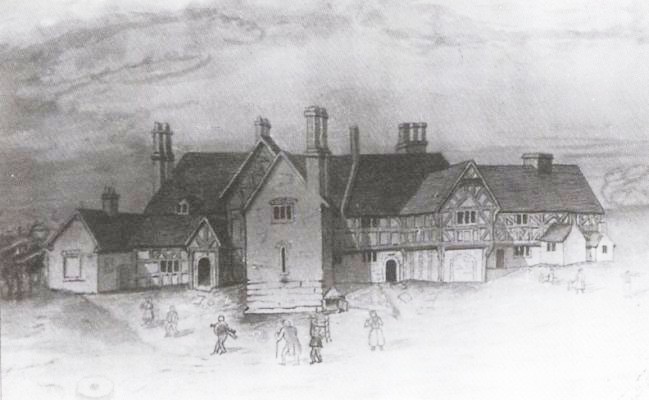 The children of William and Esther were:
Mary Ann (1785-1834) married Samuel Holloway – their daughter Eliza married her cousin Henry Fowler
Sarah died in infancy, buried 18 Feb 1790
Sarah (1790-1803)
William (1792-1868) married (1) Elizabeth Hodson (2) Ann Mattocks
John (1794-1857) emigrated to Pennsylvania, USA(see below)
Ann (my ancestor, 1797-1874) married Thomas Fowler – their son Henry married his cousin Eliza Holloway
Josiah died in infancy, buried 19 Dec 1802
Joseph (1805-1864) married (1) Rosanna Caddick (2) Rhoda Shaw (see below).

William Shale died at Sedgley Hall on 11 February 1827, aged 70, and is commemorated by a window in the north side of the nave of All Saints church at Sedgley:
"This window is erected to commemorate the Restoration of this church and the above abolition of the Pews and side Galleries in 1887
Also to perpetuate the Memory of WILLIAM SHALE who died at Sedgley Hall Feb 11 1827
And his son WILLIAM SHALE of Bilston who died Dec 17 1868
Both buried at St Leonard's Church, Bilston
This tribute of affection is gratefully dedicated to their memory
by Grandson & nephew HENRY FOWLER of The Limes, Sedgley, March 1884."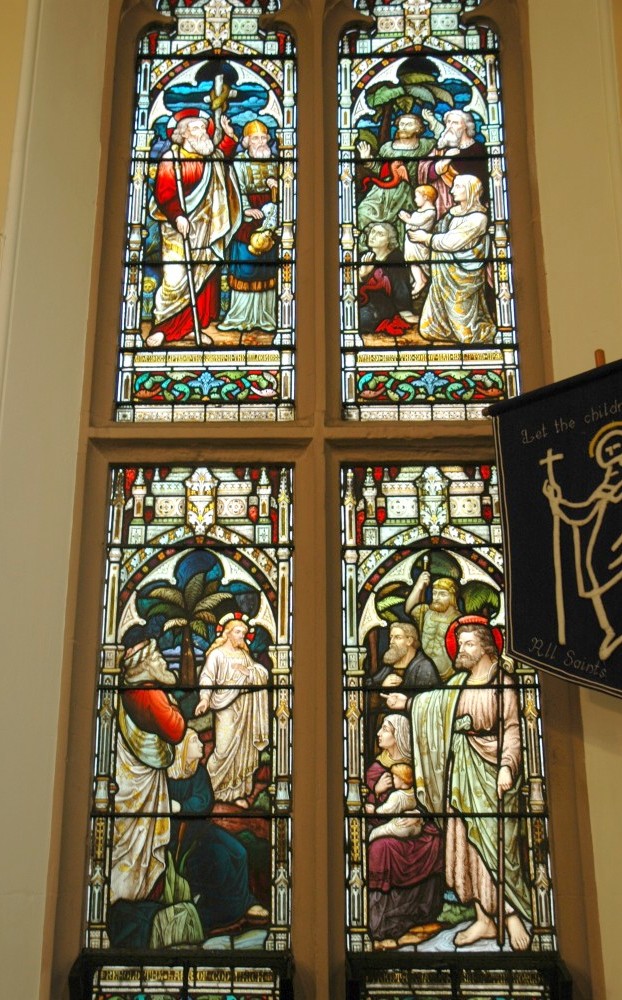 William's brother Joseph Shale, a victualler, re-married in 1837 when he was aged 79. The marriage certificate gives his father as Josiah Shale, buckle-maker. The bride was a widowed housekeeper, Rebecca Parsons, aged 57, daughter of John Shale, buckle-maker. Their witnesses were William Shale and Elizabeth Shale.

One of William Shale's sons, John, married Sarah Elizabeth Preston at Sedgley 1 Sept 1818. In 1835 they migrated to the USA with their children John (1820), Joseph (1823), Elizabeth (1825), William (1828) and Samuel (1831). Another daughter, Mary Ann, was born in 1837 in Pennsylvania.
John Shale died 28 August 1857 and was buried at Ligonier Valley cemetery, Pennsylvania.

William Shale's youngest son, Joseph, married Rosanna Caddick in 1824; their son Samuel was born in November that year, followed by four more children. Rosanna Caddick Shale was buried at St Leonard's on 5 April 1836, aged 50. Four months later on 23 August Joseph married his second wife, Rhoda Shaw, at Sedgley; their son Thomas, born 1841, migrated to New Zealand and became a dairy farmer, dying at Dunedin in 1915. Joseph Shale died on 5 January 1864 at Mitchel Troy, Monmouthshire (where he was farming), followed three weeks later by his widow Rhoda, who died at Coseley on 28 January.

LAST WILL AND TESTAMENT of William Shale
died 17 December 1868

On the sixth day of December 1869 the Will with two codicils of William Shale formerly of Bilston afterward of Penn and late of Bilston aforesaid both in the County of Stafford, Gentlemen, deceased who died on the seventeenth day of December 1868 at Bilston aforesaid was proved in the District Registry attached to Her Majesty's Court of Probate at Lichfield by the Oath of Henry Fowler of Bilston aforesaid Ironmaster the sole Executor named in this Will he having been first sworn duly to administer.

Effects under £14,000. No Leaseholds

Extracted by John Mason, Solicitor, Bilston

This is the last Will and Testament of me William Shale late of Bilston but now of Penn in the County of Stafford, Gentleman. I give and bequeath unto my dear wife, Ann Shale, all my household Goods and Furniture, Plate, Linen and China, Books, Pictures and Household Stores being in my Dwellinghouse at the time of my decease. And also my carriage and carriage horse to and for her own absolute use, benefit, and disposal. I also give and bequeath unto my said wife the Legacy or sum of One thousand pounds for her own use and benefit. And I direct that the same be paid to her within three Calendar Months next after my decease. And I hereby declare that the provision herby made for my said wife shall be accepted by her in satisfaction and Bar of Dower and Free Bench to which by the common ______________ or by custom she may be entitled in or out of the Freehold, Copyhold or Customary hereditaments of or to which I have been or shall be seized or entitled at the time of my decease. I give and devise unto my Nephews, Henry Fowler of Bilston aforesaid Coalmaster and William Fowler of Bilston aforesaid Butcher, all those my four Copyhold Messuages or Dwellinghouses with the outbuildings and appurtenances thereunto belonging, situate in and fronting to Broad Street in Bilston aforesaid formerly in the occupations of Samuel Green and others and now of John Jones and others Together with the free and uninterrupted use and enjoyment of the Well of Water and Pump now used and enjoyed therewith in common with the owners and occupiers for the time being of the Six Messuages and hereditaments near thereto hereinafter devised to my said Nephew, Henry Fowler, and the owners and occupiers for the time being of the Messuages and hereditaments next hereinafter devised. And also all these four Copyhold Messuages or Dwellinghouses and outbuildings lately erected and built by me upon other part of Land in Bilston aforesaid, called Tibbetts Croft, formerly in the occupation of James Maullin, William Ore, Pyna Jones and Humphry Wellings and now of James Maullin and others Together with the free and uninterrupted use and enjoyment of the said Well of Water and Pump now used therewith in common with the owners and occupiers of the said Messuages or Dwellinghouses firstly hereinbefore devised and the Messuages or Dwellinghouse near thereto and hereinafter devised to the said Henry Fowler and also right of foot road or way to lead from the two Messuages now in the occupations of John Smith and another over and along the vacant Land in front of the said Six Messuages and hereditaments hereinafter devised to the said Henry Fowler To hold the said eight Messuages or Dwellinghouses, hereditaments and premises with the right privileges and appurtenances thereunto belong or hereby given or reserved unto the said Henry Fowler and William Fowler, their heirs and assigns Upon Trust that they the said Henry Fowler and William Fowler or the Survivor of them or the heirs or assigns of such Survivor do and shall from time to time by and out of the rents and profits of the said Messuages and hereditaments pay the expenses of keeping the same in good _________________ repair and condition and also of Insuring the same Messuages and buildings against loss or damage by Fire in some good Office of Insurance and in such a sum of money as they in their discretion many think proper. And after such payments as aforesaid do and shall pay the residue of the said Rents and profits _______________ the proper _________________ of my Niece Esther Betsy Cole, the wife of Stephen Cole of Bilston, aforesaid Mine Agent, or permit her to receive the same for her own sole and separate use and benefit for and during the term of her natural life independently of and free from the debts, controul or engagements of her present or any future husband with whom she may intermarry and that her receive alone notwithstanding coverture shall be the only good and sufficient discharge for the same. And from and immediately after the decease of the said Esther Betsy Cole Upon further Trust after such payment as aforesaid out of the said rents to pay the residue thereof unto the said Stephen Cole or permit him to receive the same for and during the term of his natural life in case he should happen to survive the said Esther Betsy Cole. And from and after the decease of the Survivor of them the said Esther Betsy Cole and Stephen Cole Upon Trust for all and every the Children of the said Esther Betsy Cole and their respective heirs and assigns as Tenants in common and not as joint tenants in equal shares Provided always and I do hereby will and direct that if any of the Children of my said Niece shall happen to depart this life under the age of twenty one years leaving lawful issue then I devise the share of the said Copyhold Messuages and hereditaments so given and devised to him or her so dying unto and amongst all and every the Children of such deceased parent if more than one in equal parts, shares and proportions as tenants in common and not as joint tenants. And in case it shall so happen that any of the Children of the said Esther Betsy Cole shall happen to depart this life under the age of twenty one years without leaving lawful issue then I give and devise the share of him or her do dying of and in the said Copyhold Messuages and hereditaments unto and amongst the Children of the said Esther Betsy Cole then surviving in equal parts, shares and proportions as tenants in Common and not as joint tenants. I give and devise unto the said Henry Fowler all those my six Copyhold Messuages or Dwellinghouses situate in Broad Street in Bilston aforesaid which I erected on the said Land called Tibbetts Croft Together with the Garden formerly in my own occupation situate at the back of the said six Messuages or Dwellinghouses subject nevertheless to the right of road or way to two of the four Messuages or Dwellinghouses and hereditaments situate in Tibbetts Croft aforesaid and hereinbefore devised In trust for my Niece Esther Betsy Cole. And also a right of road or way leading out of Broad Street aforesaid to the said six Messuages or Dwellinghouses and premises. And also to the said Garden at the back thereof and the free and uninterrupted use and enjoyment of the Well of Water and Pump now used by the Tenants of the said devised six Messuages and hereditaments in common with the owners and occupies for the time being of the eight Messuages and hereditaments hereinbefore devised In trust for my said Niece Esther Betsy Cole. I also give and devise unto the said Henry Fowler All that my Freehold Messuage or Dwellinghouse with the yard and outbuildings thereto belonging situate in Bilston Street in Wolverhampton in the County of Stafford and now or late in the occupation of John Ford And also all those my five Messuages and hereditaments situate in Broad Street in Bilston aforesaid erected and build on Land held under Agreement for Lease from the late Mr. Bickley and which said Messuages were devised to me by the Will of my late Uncle Joseph Shale deceased And also all that my Messuage or Dwellinghouse and outbuildings situate in Cold Lanes in Bilston aforesaid which I purchased from the late Mr. Isaac Higgins deceased And also all that piece of parcel of Land called Turnpike Piece situate at Cold Lanes in Bilston which I purchased from Messrs. Thomas and Isaac Badger (subject nevertheless to a Lease of an Agreement for a Lease of he same Land and the mines and minerals underneath made by me with Messieurs. Fowler, Holdcroft and Hughes) And also all that my Freehold Messuage or Tenement outbuildings Land hereditaments and premises situate at Penn aforesaid which I lately purchased from Mr. Jensen and now in my own occupation And also all that my ___________________ or equal half part or share of and in all those closes, prices or parcels of Land situate at Hockley within the Manor of Sedgley and containing together Seven Acres or thereabouts with the two Messuages or Dwellinghouses erected thereon and now or late in the occupation of Thomas Richards And which said Land I purchased jointly with the said Henry Fowler from the Trustees of Thomas Crooke Pemberton a Bankrupt To hold the said Freehold and Copyhold Lands Messuages and hereditaments and the appurtenances unto and to the use of the said Henry Fowler, his heirs, Executors, Administrators and assigns according to the several natures and qualities thereof respectively subject nevertheless and charged and chargeable with payment of the annual Rent charge or sum of Fifty two pounds to my sister, Ann Fowler of Bilston, aforesaid Widow, for and during the term of her natural life (free and clear of all Legacy or annuity Duty) the same to be paid to her by four equal quarterly payments in each year, the first of such payments to become due and payable at the expiration of three Calendar Months next after my decease Provided always and I do hereby further will and direct that in case the said Annuity or Rent charge of Fifty two pounds or any part thereof shall be in arrear and unpaid at the expiration of Twenty Eight days next after any one of the said days whereon the same shall become due and payable as aforesaid that then and so often as the same shall happen it shall be lawful for the said Ann Fowler to enter and distrain upon all or any part of the said Messuages and hereditaments so charged as aforesaid and to dispose of the distress and distresses then and there found according to Law as in case of distresses taken by Landlords for Rents reserved upon Leases for years to the and ___________________ intent that thereby so much of the said Rent charge then in arrear and all costs and expenses occasioned by the nonpayment thereof maybe fully paid and satisfied And I also charge and make chargeable the last devised Messuages and hereditments with payment of the Legacy of One thousand pounds hereinbefore bequeathed to my said Wife and the Legacies hereinafter by this may Will also given and bequeathed And Whereas by an Indenture of Conveyance and assignment bearing date the twenty fourth day of October One thousand eight hundred and sixty two and made between Henry Hill, Alfred Colburn and Samuel Page of the first part, William Banks of the second part, Henry Fowler of the third part, Myself of the fourth part, and Stephen Cole of the fifth part for the valuable considerations therein mentioned certain Freehold and Leasehold Lands, Blast Furnaces, Ironworks, Mines, Minerals, Messuages and hereditaments situate in the Township of Bilston and in the Parish of Sedgley in the County of Stafford called "Barbers Field Furnaces and Colliers and Ettingshall Ironworks" were thereby granted, conveyed and assigned or otherwise assured to me the said William Shale, my heirs, Executors, Administrators and assigns according to the several natures and qualifies thereof respectively Subject nevertheless with respect to the Leasehold part of the said Lands Messuages and hereditaments for and during the residue and remainder of the respective terms for which the same were then held to certain surface and other Rentals amounting I the aggregate to the annual sum of Two hundred pounds and upwards. And also subject to the observance and performance of the several and respective covenants, conditions and clauses contained in the Original and Under Leases of the said Leasehold Lands Mines Messuages and hereditaments and including Also Convenants for leveling certain portions of the said Leasehold Lands of the expiration of the respective terms of years therein and rendering or restoring the said Lands to a fit state for cultivation And whereas since the date and execution of the said Indenture of Conveyance and assignment I have sold and disposed of to Messrs Fowler, Holcroft and Hughes the Forge Mill and Ironworks called "The Ettingshall Ironworks" with the engines and fixed and moveable Machinery and Effects erections and buildings or such part or parts thereof as was or were my property or belonged to be in my own right with full liberty and power for the said Henry Fowler, William Holcroft and Henry Hughes to take down, remove and carry away the same at pleasure And I have also Leased to the said Messrs. Fowler, Holcroft and Hughes the whole of the said Lands, Blast Furnaces, Mines, Minerals, hereditaments and premises described and comprised in the said Indenture of Conveyance and assignment (except the said Ironworks and Buildings called "Ettingshall Ironworks") for certain terms of years and subject to certain Rents and Royalties for the same. Now I do hereby devise and bequeath unto the said Henry Fowler All and singular the said Freehold and Leasehold Lands, Blast Furnaces, Mines, Minerals, Messuages and hereditaments situate in Bilston and Sedgley aforesaid called Barbors Field Furnaces and Collieries and all my Estate right and interest therein and thereto. And also all the rest and residue of my Real and Leasehold Estates of what nature or Kind soever and wheresoever situate To hold the same with the rights, priviledges and appurtenances thereunto belong unto and to the use of the said Henry Fowler, his heirs, Executors, Administrators and assigns according to the several natures and qualities thereof respectively Subject nevertheless to the payment of the surface and other Rents, Royalties and sums of one to become due and payable in respect or on account of the said Freehold and Leasehold Lands, Mines, Minerals, hereditaments and premises and also to the performance and observance of the several Covenants, conditions, clauses and agreements contained I the said Original and under Leases and in the said Indenture of Conveyance and Assignment of the Twenty fourth day of October One thousand eight hundred and sixty two or such of them as at the time of my decease may remain unperformed and capable of being carried into effect and especially the _________________________ of for leveling and restoring the surface of the said Lands or any part thereof at the expiration of the several Leases thereof and restoring the said Lands to a fit state for cultivation. He the said Henry Fowler, his heirs, Executors, Administrators or assigns Indemnifying, Keeping and saving harmless the Estate of me, the said William Shale and my heirs, Executors, Administrators and assigns, from and against the aforesaid Covenants, Clauses and Agreements in the said Indenture of Conveyance and assignments of the twenty fourth day of October One thousand eight under and sixty two or in the said Original and Under Leases of the said Lands and hereditaments or any of them contained. And I also charge and make chargeable the last devised Lands, Mines, Minerals, Blast Furnaces, Messuages, hereditaments and premises and Real and Leasehold Estates with payment of the said Legacy of One thousand pounds to my said wife and also the several Legacies or sums of money hereinafter by this my Will also given and bequeathed. I give and bequeath unto the said Henry Fowler All my monies in hand money in any Bank or Banks, Bank shares, Securities for money and all other my Personal Estate and Effects whatsoever not hereinbefore by this my Will given and bequeathed To hold the same unto the said Henry Fowler, his Executors, Administrators and assigned Subject nevertheless to the payment of my just debts, funeral and the said Legacy of One thousand pounds and also Subject to the payment of the several Legacies hereinafter given and bequeathed and the Legacy Duties payable in respect thereof. I give and bequeath unto the Children of my late Brother, John Shale deceased (who are now I am informed residing in the United States of America), the Legacy or sum of One thousand five hundred pounds in equal arts, shares and proportions. I give and bequeath unto John Holloway, Samuel Holloway, Maria Green, Jane Cartwright, Mary Ann Hateley, Eliza Fowler and Charlotte Scoffham (seven children of my late sister Mary Holloway deceased) the sum of Two hundred pounds each. And to Samuel Clift and Mary Ann the wife of Thomas Shale (the two children of Sarah Clift deceased, another Daughter of the said Mary Holloway deceased) the sum of two hundred pounds equally between them. I give and bequeath unto the said William Fowler and John Fowler, the said Esther Betsey Cole, Ann the wife of Richard Thompson, and Sarah Fowler (five of the Children of my said sister Ann Fowler) the Legacy or sum of Two hundred and seventy pounds in equal parts, shares and proportions. I give and bequeath unto the six Children of Maria Parker deceased (another Daughter of the said Ann Fowler) the Legacy or sum of Two hundred and twenty pounds in equal parts, shares and proportions. I give and bequeath unto Samuel Shale now residing in America (a son of my late Brother, Joseph Shale deceased) the Legacy or sum of Two hundred and fifty pounds. I give and bequeath unto Thomas Shale of Mitchell Troy, Monmouth (another Son of my said Brother, Joseph Shale deceased) the Legacy or sum of Two hundred and fifty pounds. And upon Trust that he the said Henry Fowler, his Executors or Administrators do and shall layout and invest the sum of Four hundred pounds upon Government or Real Security in England and pay the Dividends, interest and Annual proceeds to arise and be received there from into the proper hands of Laura Summers of Bilston aforesaid Widow (one of the sisters of my late Wife Elizabeth Shale deceased) for her own sole and separate use and benefit without any power of anticipation for and during the term of her natural life (fee and clear of Annuity or Legacy Duty payable in respect thereof which I direct to be paid out of my said monies and personal Estate) And I will and direct that the Dividends, interest and annual proceeds shall not be subject or liable to the power controul, debts or engagements of any husband with whom she the said Laura Summers may intermarry and that her receipt alone notwithstanding Coverture shall be the only good and sufficient discharge for the same. And from and after the decease of the said Mary Bill or in case the said Mary Bill should depart this life in my lifetime then I give and bequeath the said sum of Four hundred pounds or the Securities upon which the same may be invested (free and clear of Legacy Duty) unto and amongst all and every the Children of the said Mary Bill who shall be living at the time of her decease or living at the time of my decease in case I should survive her in equal parts, shares and proportions And if but one Child then to such only Child his or her Executors or Administrators. And upon further Trust that the said Henry Fowler do and shall so soon after my decease as conveniently may be invest the sum of Three hundred pounds out of my pure personal Estate in Government Securities in the name of him the said Henry Fowler during the life or Incumbency of the present Incumbent of Saint Leonard's Chapel Bilston. And in case of his death or ceasing to the such Incumbent then to Transfer the Stocks or Securities upon which the said sum of Three hundred pounds shall then be invested into the name of the Incumbent for the time being at the said Chapel of Saint Leonard's and that the said Henry Fowler or other such Incumbent of Saint Leonard's Chapel aforesaid do and shall receive the annual Dividends or proceeds to arise there from and on Saint Leonard's day in each and every year in perpetuity at the Vestry of Saint Leonard's Chapel aforesaid divide the same into twenty equal parts or shares and pay then of such parts or shares equally between then old and deserving men and the remaining ten shares equally between ten old men and deserving widows or spinsters such old men and women to the parishioners of Bilston and in the discretion of the said Henry Fowler or other such Incumbent as aforesaid, together with the Chapel Wardens for the time being of the said Chapel of Saint Leonard's proper objects of Charity And I direct that the whole of the said Legacies and sums of money shall be paid to the several Legatees free and clear of all Legacy or Annuity Duties payable in respect thereof I devise to the said Henry Fowler and William Fowler and the survivor of them and the heirs, Executors, Administrators and assigns of such survivor all Lands, Messuages and herditaments which shall or may be vested in me as Mortgagee or Trustee or surviving Trustee for any person or persons whomsoever either in Fee or otherwise according to the natures, tenures and qualities thereof respectively And subject to the Trusts and Equities affecting the same respectively. And lastly I do hereby nominate and appoint the said Henry Fowler sole Executor of this my Will and hereby revoking and making void all former and other Wills by me at any time hereto before made I declare this to be and contain my last Will and Testament. In witness whereof I the said Testator, William Shale, have to this my said Will written upon eleven sheets of paper set my hand this thirty first day of March One Thousand eight hundred and sixty six – William Shale – Signed, Published and Declared by the said Testator, William Shale, as and for his last Will and Testament in the presence of us, who in his presence at his request at the same time, and in the presence of each other have hereinto subscribed our names as witnesses – William Holmes, Solicitor Bilston – William Etheridge, Clerk to Mr. Holmes

This is a Codicil to the last Will and Testament of me, William Shale, late of Bilston, but now of Penn the County of Stafford Gentlemen bearing date the thirty first day of March One Thousand eight hundred and sixty six And which I desire may be annexed to and taken as part therefore Whereas I have by my said Will directed that Henry Fowler, my Executor therein name, shall lay out and invest the sum of Four hundred pounds upon Government or Real Security in England and pay the Dividends, interest and annual proceeds to arise and be received therefrom into the proper hands of Laura Summers of Bilston aforesaid Widow (one of the Sisters of my late Wife Elizabeth Shale deceased) for her own sole and separate use and benefit for and during the term of her natural life (free and clear of Annuity Duty payable in respect thereof) And I directed that the Dividends, Interest and annual proceeds should not be subject or liable to the power controul debts or engagements of any Husband with whom she the said Laura Summers might intermarry And that her receipt alone notwithstanding Coverture should be the only good and sufficient discharge for the same And after the decease of the said Laura Summers or in the case the said Laura Summers should depart this life in my lifetime Then I gave and bequeathed the said sum of Four hundred pounds or the Securities upon which the same might be invested (free and clear of Legacy Duty) unto and amongst all and every the Children of the said Laura Summers who shall be living at the time of here decease or living at the time of my decease in case I should survive her in equal parts, shares and proportions And if but one Child then to such only Child his or her Executors or Administrators And whereas since the date and Execution of my said Will I have paid to or for the benefits of the said Laura Summers the sum of One hundred pounds on account and in part payment of the said Legacy or sum of Four hundred pounds so given and bequeathed by my said Will In Trust for the said Laura Summers as aforesaid Now I do hereby will and declare that the said sum of One hundred pounds so given or paid by me the said William Shale so as for the benefits of the said Laura Summers shall be considered as in part satisfaction of the said Legacy of Four hundred pounds so given by my said Will In Trust for the said Laura Summers and her Children as aforesaid And I also declare that the said Legacy of Four hundred pounds shall be accordingly reduced to the sum of Three hundred pounds and that so far as respects the said Request my Will shall be read and construed as if the sum of Three hundred pounds had been therein inserted instead of the said sum of Four hundred pounds thereby given In Trust as aforesaid And whereas I have also by my said Will directed the said Henry Fowler to lay out and invest the sum of Four hundred pounds upon Government or Real Security in England and pay the Dividends and annual proceeds to arise and be received there from into the proper hands of Mary Bill of Bilston aforesaid Widow (the other surviving Sister of my said late Wife Elizabeth Shale deceased) for her separate use for and during the term of her natural life (free of Annuity or Legacy Duty payable in respect thereof) And I directed that the Dividends interest and annual proceeds should not be subject or liable to the power controul debts or engagements of any Husband with whom she the said Mary Bill might intermarry and that her receipt alone notwithstanding Coverture should be the only good and sufficient discharge for the same And after the decease of the said Mary Bill or in case the said Mary Bill should depart this life in my lifetime Then I gave and bequeathed the said sum of Four hundred pounds or the Securities upon which the same might be then invested (free and clear of Legacy Duty) unto and amongst all and every the Children of the said Mary Bill who should be living at the time of her decease or living at the time of my decease in case I should survive her in equal shares And if but one Child then to such only Child his or her Executors or Administrators And whereas since the date and execution of my said Will I have given or paid to or for the benefit of the said Mary Bill the sum of One hundred pounds on account and in part payment of the said Legacy of sum of Found hundred pounds so given and bequeathed by my said Will In Trust for the said Mary Bill as aforesaid Now I do hereby will and declare that the sum of One hundred pounds so given or paid by me to or for the benefit of the said Mary Bill shall be considered as in part payment and satisfaction of the said Legacy of Four hundred pounds so given by my said Will in trust for the said Mary Bill and her Children as aforesaid And I also declare that the said Legacy of Four hundred pounds shall accordingly be reduced to the sum of Three hundred pounds and that so far as respects the said Request my said will shall be read and constructed as if the said sum of three hundred pounds had been therein inserted instead of the said sum of Fond hundred pounds then given In trust as aforesaid And I confirm my said Will in all other respects In witness whereof I the said William Shale have to this my Codicil written upon three sheets of paper set my hand this Twenty ninth day of March One thousand eight hundred and sixty seven – William Shale – Signed, published and Declared by the said Testator William Shale as and for a Codicil to be added to and taken as part of his last Will and Testament in the presence of us, who in his presence of his request, at the same time and in the presence of each other have hereunto subscribed our names as Witnesses — John Mason, Attorney at Law, Bilston – William Holmes, Attorney at Law, Bilston

This is a Codicil to the last Will and Testament of me, William Shale, of Bilston in the County of Stafford Gentleman dated the thirty first day of March One thousand eight hundred and sixty six. Whereas in and by my said Will I have given and bequeathed unto my Wife, Ann Shale, the Legacy of One thousand pounds and also all my household goods and furniture, plate, linen and china being in my dwellinghouse at the time of my decease And whereas it being my will and desire to make a further provision for my said wife I do hereby given and bequeath to her the Legacy of sum of Six hundred pounds in addition to the legacy I have given to her in and by my said Will. And I ratify and confirm my said Will in all respects same as the same is altered or affected by this Codicil In Witness whereof I have to this my Codicil set my hand this thirtieth day of November One thousand eight hundred and sixty eight – William Shale – Signed, published and declared by the Testator William Shale as and for a Codicil to be added to and taken as part of his last Will and Testament in the presence of us who in his presence at his request at the same time and in the presence of each other have hereunto subscribed our names as Witnesses – John Mason, Solicitor Bilston – M. Henry Pursall, Clerk to Mason & Holmes, Solrs Bilston.

Proved at Lichfield with two Codicils the sixth day of December 1869 by the oath of Henry Fowler the sole Executor named in the Will to whom Administration was granted.

The Testator, William Shale, was formerly of Bilston afterwards of Penn and late of Bilston aforesaid both in the County of Stafford, Gentleman, and died on the seventeenth day of December 1868 at Bilston aforesaid

Under £14,000

John Mason, Solr
Bilston

I certify the foregoing to be a correct Copy of the original Will and two Codicils now ______________ in the District Registry of her Majesty's Court of Probate at Lichfield