SHELTON : west Staffordshire and Wolverhampton

The surname is recorded as both Shelton and Sheldon, and the forename Jarvis as Jervis, Jerviss, Gervase & Gervas.

My direct forebear Jervis Shelton, born about 1717, married Elizabeth Stokes of Lapley by licence at Weston-under-Lizard on 24 July 1745. The parish register spells their names Jerviss Sheldon and Elizabeth Stoakes, and the marriage licence gives the groom's age as 28 and his bride's as 22.
Elizabeth had been baptised at Lapley-cum-Wheaton Aston on 4 July 1723, daughter of Thomas and Jane Stokes, née Adams, who had married at Lapley on 5 November 1719. These villages are all adjacent to each other in west Staffordshire.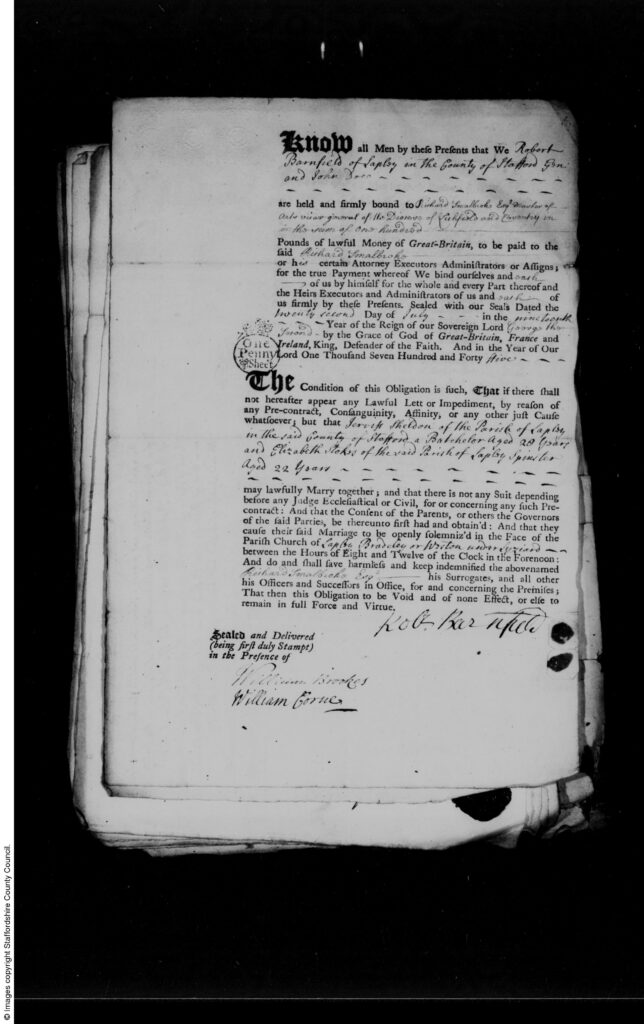 The children of Jervis Shelton and Elizabeth – all baptised at Lapley-cum-Wheaton Aston – included John (4 May 1746), Samuel (27 Dec 1747 died in infancy), William (4 Oct 1748), Jane (20 Oct 1750), Richard (26 Apr 1755 died in infancy) and Elizabeth (2 Jan 1762 died in infancy).
Jervis Sheldon (sic) was buried at Newport, Shropshire, on 8 February 1787. His widow may have been the Elizabeth Sheldon buried at Newport on 12 March 1794. Newport is roughly twelve miles from Lapley, and could well have been Jervis's birthplace, since there were a number of Shelton/Sheldon families in the town at this period.

His son John married Ann Fennyhouse (see FENNYHOUSE family) at Blymhill on 18 December 1768. Their witnesses were William Bach and John Wright, and the register describes them as both of the parish. Their children baptised at Blymhill included Ann (12 Mar 1769), Gervase (otherwise Jarvis) (10 Feb 1771) and Elizabeth (28 Mar 1773); and Joseph Fennyhouse (19 Oct 1777) who was baptised at Lapley-cum-Wheaton Aston.

A register for Wheaton Aston, 1798, names both John Sheldon (sic) and his brother-in-law Joseph Fennyhouse as landowners in the parish. John Shelton was buried at Lapley on 19 December 1830, aged 85. The register gives his abode (at time of death) as Wolverhampton, where he had most likely been visiting family at Ettingshall Lanes. His widow Ann Fennyhouse Shelton died at Wheaton Aston, aged 83, and was buried at Lapley on 22 July 1833.

One of their sons, Joseph Fennyhouse Shelton, was brought before Gnosall parish for a 'bastardy examination' on 30 October 1797 by Sarah Wright of Great Chatwell, whom he had got with child. The baby, Joseph Shelton, was baptised on 3 December 1797. The father subsequently married Esther Jones at St Peter's, Wolverhampton, on 29 June 1808, with his brother Jarvis Shelton as witness.

Jarvis Shelton married Mary Mitchel at All Saints, Lapley, on 29 September 1793. The church register records the bride's parish as Haughton. Their children – baptised at Lapley – included John (15 June 1794), Mary (17 Apr 1796), Ann (3 June 1798) and Joseph (13 June 1802). Curiously, mother's name for the last two was recorded as Elizabeth, not Mary, in the Lapley register.

The family later moved to the Ettingshall Lane/Gibbet Lane area of Bilston and two other children, Ellen and Jane, were both baptised there on 10 July 1815 at St Leonard's – the parish register records father's occupation as day labourer and abode as Ettingshall Lane.
In 1818 when their 20 year-old daughter Ann gave birth to an illegitimate boy named Jarvis (see below) her abode was shown as Priest Fields, which adjoined Ettingshall Lane. Ann's sister Jane married John Lewis at St Peter's on 13 Feb 1832: their daughter Catherine was born on 9 July 1832 and baptised at George Street Methodist church eleven days later. The register shows her father as a labourer of Gibbet Lane and the mother as née Shelton, daughter of Jarvis and Mary.
Another sister, Ellen, married a miner, William Miller, at Sedgley on 12 June 1836: their son David was baptised at George Street on 19 May 1837 and the same particulars were given in the register, including the address as Gibbet Lane.

Elizabeth, also one of the Shelton sisters (born c1805), married John Cleaton at St Peter's on 2 June 1823: their witness was Elizabeth's brother-in-law Robert Fenn, and when their son Gabriel was baptised on 28 December the same year, the father was described as a miner of Gibbet Lane. By the time their daughter Isabella was born in 1829 the address had changed to Ettingshall Lanes.
The oldest of the sisters, Mary – my great-great-great-grandmother – married Robert Fenn at Sedgley on 15 April 1816, and died at New Cross, Wolverhampton, on 18 March 1883, aged 87.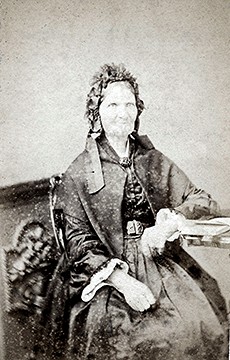 On the 1841 census Robert and Mary Fenn were living at Ettingshall Lane, Bilston, with their six children. Living just off Ettingshall Lane, in Gibbet Lane, were Mary's parents, Jarvis and Mary Shelton, both 70. Jarvis was described as 'milkman', meaning he kept a cow and was selling the milk. He was buried from St Peter's on 5 June 1842, aged 71 – the register gives his abode as Gibbet Lane; and his widow Mary was buried from the same church on 14 April 1850 aged 80 – her abode is given as Ettingshall Lane (formerly Gibbet Lane).

The 1851 census showed their widowed eldest son, John Shelton, aged 55, a hay dealer born Wheaton Aston, living at Fryer Street, Wolverhampton, with a housekeeper and her children. John Shelton died on 17 February 1858, aged 63, and his Will was proved at Lichfield on 11 March by his nephew and sole executor *Jarvis Shelton, a carter. Effects were under £450.  The census for 1861 recorded Jarvis aged 43 living at Fryer Street with his wife Sarah, 40, and children William, a carter aged 16, John, 14, Elizabeth, 12,  Jarvis, 9, Mary, 6, and Ann, 4.
(*This Jarvis was the illegitimate son of Ann Shelton, born in 1818. When he married Sarah Perrins at Sedgley in 1845 he gave his father's name as Joseph Tonks.)

By the time of the 1881 census, this branch of the Shelton family was still occupying the Fryer Street property. Jarvis, now aged 63 and described as a hay dealer born Bilston, was listed with his wife Sarah, 60; son Jarvis, 30, also a hay dealer; daughter Annie, 23; and two grandchildren, Alice and Jarvis Gould, aged 7 and 6 – the latter described as a mill lock grinder. Jarvis Shelton snr died 13 June 1881, and his Will was proved on 2 September that year by executors David Miller, hurdle manufacturer, and Jarvis Richard Shelton his son. Effects were £536. His daughter Ann (Annie) died unmarried on 22 May 1890 at 2 Cranmore Road, Wolverhampton. Probate was granted on 9 July to her brother Jarvis, who by now was a hay, straw and coal merchant. Effects were £269. Jarvis Richard Shelton died on 15 September 1932 at Lyndhurst Road, Wolverhampton, leaving £3760.