SILVERWOOD : Leicestershire and Nottinghamshire
My direct ancestor on this bloodline was John Silverwood, born in Yorkshire around 1557. He studied at Lincoln College, Oxford, where his matriculation is recorded in 1577 when he was twenty years old. Graduating in March 1580-81, he was ordained deacon on 30 September 1581 and spent his entire ministry as vicar of Frisby-on-the-Wreake, Leicestershire, where he was buried on 1 January 1635, aged about 78. During his time here he also served as rector of neighbouring Brookesby (both villages are near Melton Mowbray) and was recorded as a freeholder of nearby Asfordby in 1630.
John Silverwood's signature, church records, Frisby-on-the-Wreake 1604
John Silverwood's Will, dated 21 June 1632, names his surviving children as Samuel, William, John, Martyn, Bridgett and Elizabeth. Another child, Martha, baptised at Frisby in 1587, died young; as did a newborn daughter Mary, buried here in 1617.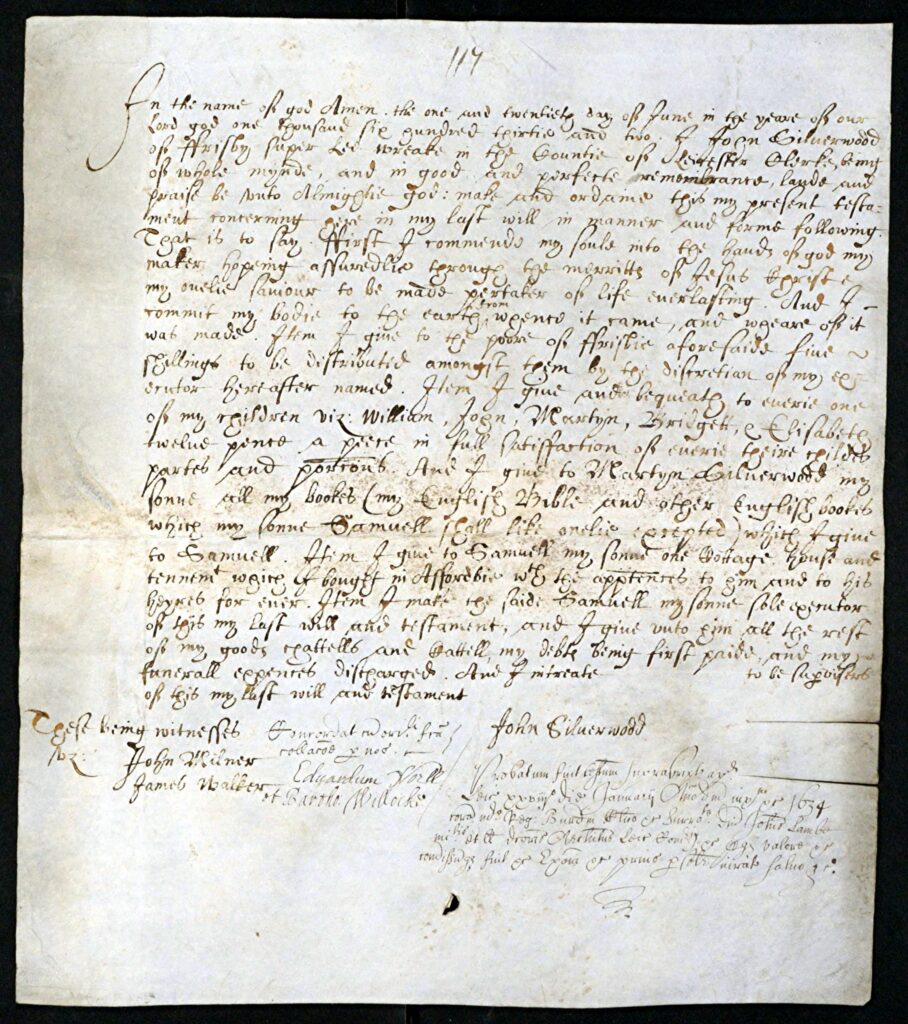 John Silverwood's son Martyn graduated from Lincoln College in 1615 aged 19, and was then minister of Whatton, Nottinghamshire, from 1623 until at least 1642, when he was listed in the Protestation Returns. He was sequestered to the vicarage of Tilton-on-the-Hill in Leicestershire in 1647 (such sequestrations involved a minister loyal to the Crown being replaced in his parish by a non-Conformist Parliamentarian).

Martyn's brother William, baptised 13 November 1585, is my direct ancestor. He was a yeoman, and is recorded as holding the manor of Asfordby in "fee simple" from 1609. He married Ellyn Baylye at Frisby-on-the-Wreake on 20 November 1609, and their children – all baptised at Asfordby – included John 1610-1682; Mary 1611; William 1613; Thomas 1615-1691; Joseph 1617 died in infancy; Benjamin 1618; Anthony 1621 died 1625; Ellen 1624-1700; Josiah 1627; Rachell 1629 died in infancy; Elizabeth 1632; and Luke 1635.
My line of descent is through their son Thomas, born in 1615, a student of Trinity College, Cambridge. Like his grandfather John Silverwood, Thomas became a cleric, ordained on 25 September 1642, and was living at Tilton – perhaps assisting his uncle Martyn Silverwood – when he married Joane Curtis at All Saints church, Leicester, on 6 June 1650. The marriage register describes him as 'clarke' (cleric) and Joane as 'of Halloughton' – she had been born in 1629 at Hallaton in Leicestershire, daughter of Robert Curtis, a husbandman, and his wife Theodosia née Bringhurst.

Their first child, a daughter, was baptised at Hallaton only a fortnight later, on 21 June 1650. She was given her grandmother's name, Theodosia. A son, Joseph (my direct ancestor) was baptised at Rotherby, near Frisby-on-the-Wreake, on 4 March 1656 when he was a month old. In 1654 Thomas Silverwood had briefly been vicar of Codicote, near Hitchin in Hertfordshire, and his erratic life as a Dissenting minister might explain the unusual lapse between his son's birth and baptism. There is also an interesting entry in the Rotherby parish register written during the troubled times of the Civil War: "1643 Bellum! (War) 1644 Bellum! 1645 Bellum! Interruption, Persecution! Sequestration by John Mussen yeoman, and John Yates taylor! 1654 Sequestration! Thomas Silverwood intruder." Perhaps a non-Conformist Parliament appointment to replace the incumbent Francis Needham who wrote this? Somewhat confusingly, records in the archives collection at Nottingham University show Thomas Silverwood as rector of Rotherby from 1652 to around 1655.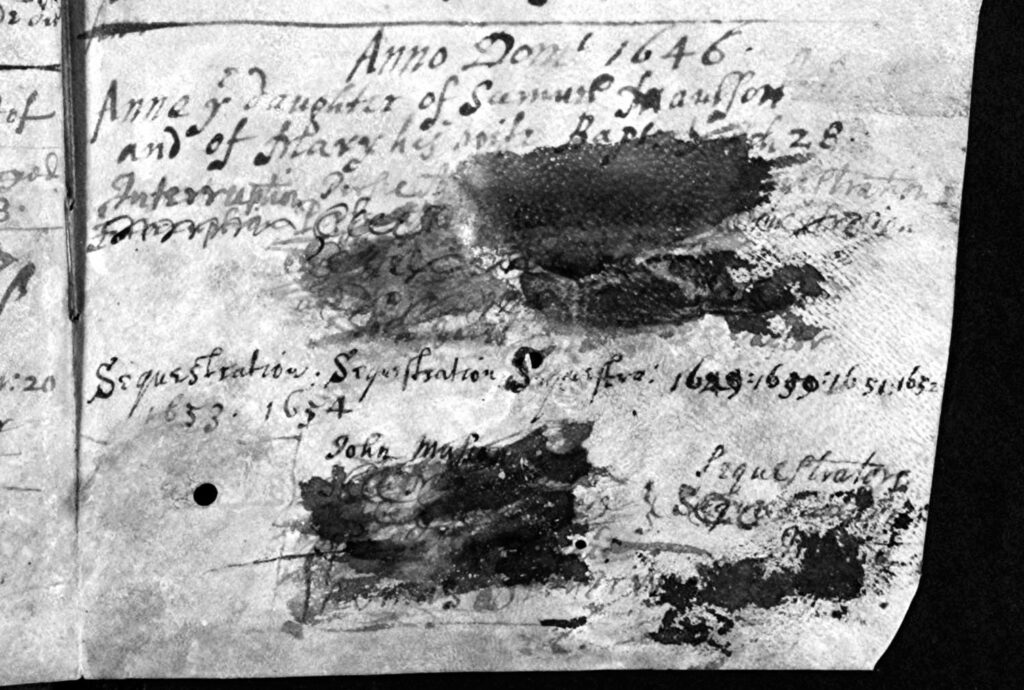 In February 1661 Thomas Silverwood was ordained rector of St Laurence's church, Gonalston, north-east of Nottingham. In fact he must have been serving in the parish slightly earlier, because his father William Silverwood had been buried here at the 'Spital' or Hospital of St Mary Magadalene in September 1657, and his son Benjamin (below) was baptised here early in 1660. A younger son may have been Jacob Silverwood, who was churchwarden at Gonalston in 1679. Thomas Silverwood was to remain at Gonalston for the rest of his ministry, being buried at St Laurence's on 3 November 1691, aged about 76. His widow Joane was buried close by him seven years later, and their grave slabs can still be seen in the floor of the sanctuary.

Their son Benjamin studied theology at Emmanuel College, Cambridge, and was ordained in 1685, spending over thirty years as vicar of the parish of Upton with Kexby, Lincolnshire, where he died in 1727.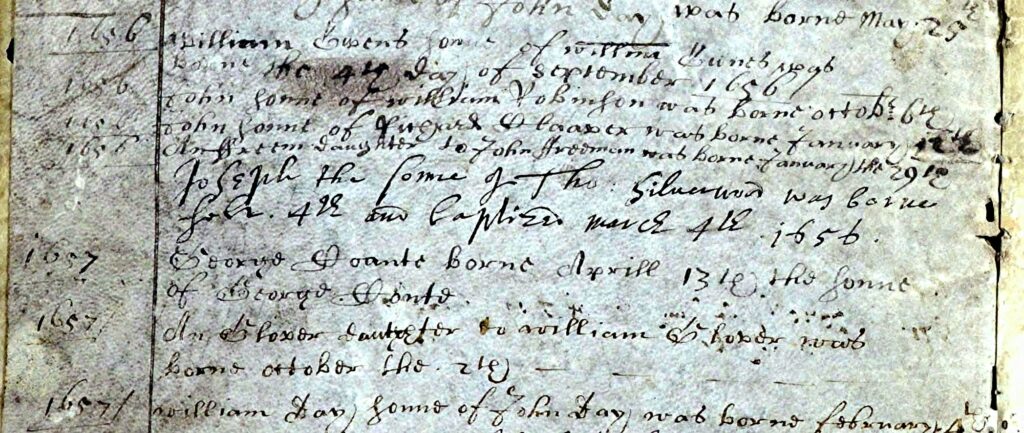 Benjamin's brother, my forebear Joseph Silverwood, married at Gonalston on 28 September 1684 to Mary Law. The marriage licence gives his age as 28, and his bride's as 25. Thereafter the young couple went to live in Nottingham, where Joseph followed the occupation of tailor; and there is proof that he held non-Conformist religious views, since most of his children were baptised in the Presbyterian meeting house on High Pavement whose register describes him several times as "the pious Mr Joseph Silverwood".

These children include Joseph 1686 – died at Gonalston 1688?; Rebecca 1687; Joseph 1689; Benjamin 1692 died at 6 months; Thomas 1693; John 1695; Nathan 1697, died 1705; David 1698 (buried four days later, together with another son, Jabis); and Samuel 1701, died 1708. Interestingly, Joseph's sister Theodocia – "Docey" – who had married John Gawthorpe at Gonalston in 1673, also had a child baptised in the High Pavement meeting house: a namesake Theodocia, in 1694.
Joseph Silverwood was buried at St Peter's church, Nottingham, 17 November 1718, aged about 62, and my line of descent continues through his son, also named Joseph and likewise a tailor, born in 1689. This Joseph married Mary Roebottom at St Peter's on 29 October 1709, and their family home was in Johnson's Court, the abode given on some of their children's baptismal records.
Most were baptised at the Presbyterian meeting house and included Sarah 1710; Philadelphia 1712; Joseph 1714; Mary 1717; Benjamin 1719; William 1723; Rebecca, 1725; Sophia 1726; and Dorothy 1727/8
The exact date for Rebecca, my direct ancestor, is not known: the register simply records that "sometime in the year 1725 Rebecca daughter of J Silverwood and Mary his wife was baptized". Joseph Silverwood, described as "taylor", was buried at St Peter's on 8 Jan 1730/31.

Young Rebecca married when she was only 16 years old, at Mansfield on 24 May 1741 to a framework knitter of Huguenot descent, William Vintin. Sadly, six of their children died in infancy; those who survived – all baptised in Nottingham – were Elizabeth 1742; Dorothy & Martha 1745; Ann 1749; Samuel 1755; Lydia 1760; and Mary 1763.
William Vintin died in the summer of 1765, and Rebecca re-married just under twelve months later, on 6 April 1766, by licence to William Coates. There were no surviving children from this second marriage and Rebecca herself was buried on 19 April 1782 at St Mary's.

My line of descent continues through her daughter Lydia Vintin, born in 1760. Lydia married William Warrener, a Nottingham framework knitter, on 3 October 1781. William Warrener made a deathbed Will on 3 October 1820, leaving all his personal estate to his wife, and was buried on 6 October in the Baptist burial ground in Bearwood Lane (now Mount Street), Nottingham. Lydia joined him there not many years later, being buried in the same ground on 23 January 1829, aged 69.

Their daughter Jane, born in 1789, married John Eyre at St Peter's church on 28 February 1814, and my great-great-grandfather was their eldest son William Eyre (see EYRE family).